Courtney Laine Mazza
This lovely gal is Courtney Laine Mazza aka Mrs. Courtney Lopez; she is the gorgeous wife of actor and t.v. host Mario Lopez. Her husband became famous for portraying  A.C. Slater on Saved  By the Bell.
Mario became the host of Extra in 1992, in July 2019, he left Extra and joined Access. No doubt you already know more than enough about Mario, therefore let us tell you five interesting facts about his better half, Courtney.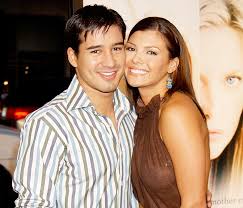 Prior to marrying Courtney in 2012, he was briefly married to actress Ali Landry; their marriage on April 24, 2004, was shaded by the cheating allegation infidelity he later admitted of in 2011. He said Ali found out he cheated on her at  his bachelor party. Their marriage was annulled two weeks after their wedding.
Courtney Laine Mazza, now Courtney Lopez born in 1982, met Mario in the Fall of 2008, at the time she was a dancer on Broadway.
Courtney subsequently dated Mario for three years,  before he popped the question while they were on a vacation in Ixtapa, Mexico. Finally, these two lovebirds tied the knot on December 1, 2012, in Punta Mita, Mexico.
Together they have three beautiful and amazing kiddos; Gia born on September 11, 2010, Dominic born on September 9, 2013, and Santino born on July 8, 2019.
Like her famous hubby, Courtney has acting experience; she had a small role on the 2006 film Pittsburgh, later appeared on Luke Matheny's comedy Earano, and in 2017, starred on the t.v. series SLove & Salsa.
Don't forget to check the Photo Gallery & Video

Below
trending stories
Trending on WAGCENTER.COM