Tyler Stanaland became a famous man after appearing on Netflix' reality show Selling the OC, but he is no stranger to showbiz after all; he married Pitch Perfect' star, Brittany Snow in 2020; sadly, on January 20, 2023, Snow announced that after two years she decided to file for divorce, the reason of the divorce is unknown. Still, Tyler jetting off to Dubai with Selling the OC fellow realtor Alex Hall quickly made people suspect he might have been having an affair.
Tyler Stanaland and his soon-to-be ex-wife Brittany Snow separated on September 14, 2022.
"After time and consideration, Tyler and I have made the difficult decision to separate," the "Pitch Perfect" actress, 36, wrote in an Instagram post accompanied by a black-and-white photo of the pair.

"This decision was made with love and mutual respect for one another. We have realized we need to take some time and make sure we are each living our most fulfilling and authentic lives," she continued.

"We started this journey as best friends and our relationship will continue to be a priority not only for us but for our dog Charlie."

Snow signed off by saying, "We sincerely appreciate your support and ask for privacy as we navigate this new chapter."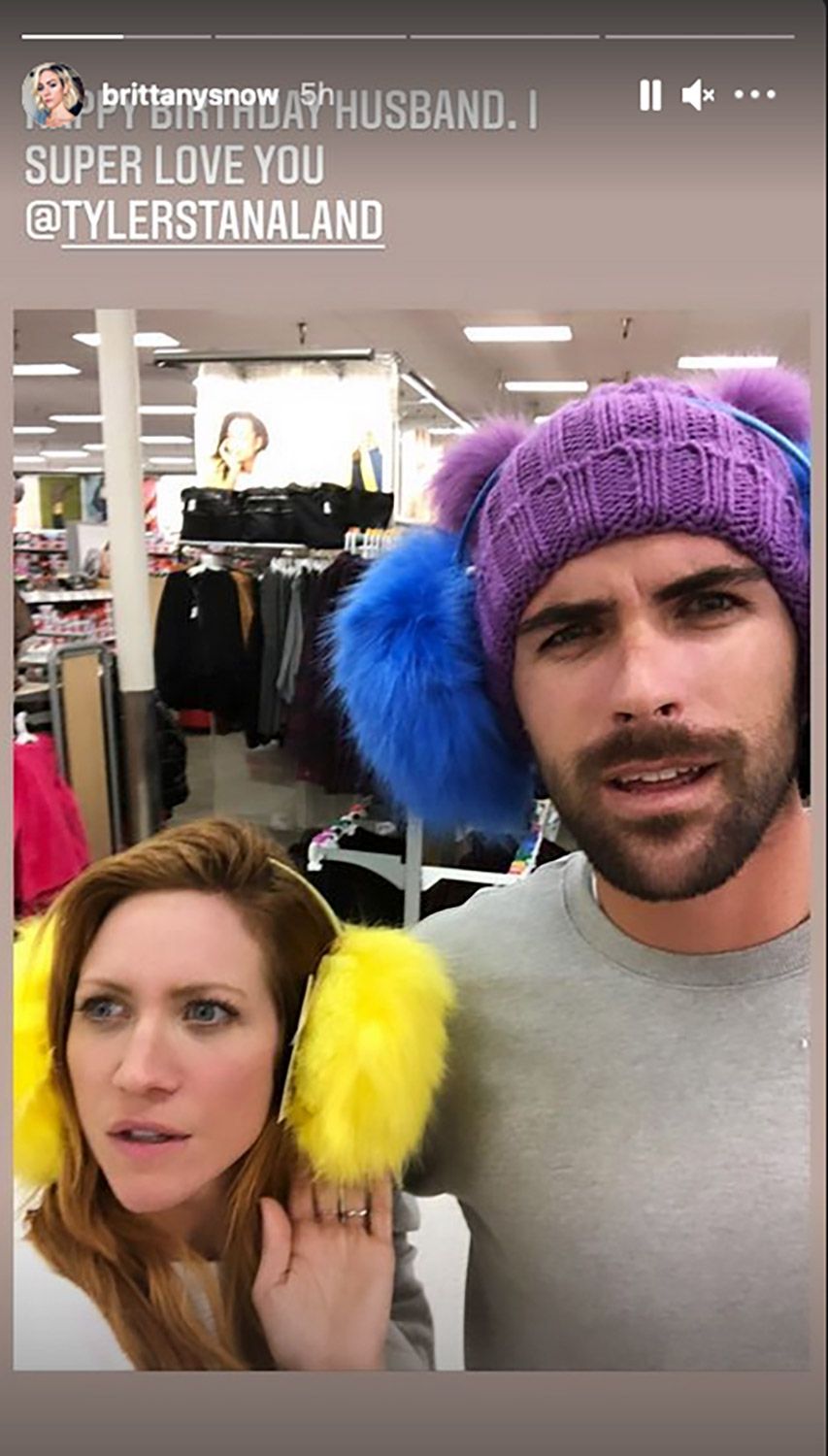 Sources close to the couple commented Brittany wasn't happy with her husband joining the cast of Netflix's Sellin the OC and even less happy with what she saw in the show regarding Tyler and his female colleagues.
"Everyone who knows Tyler and Brittany knows she wasn't comfortable with the show," a source tells Page Six exclusively. "That's why he did his best to keep his marriage and the show separate, but it only backfired."

"The show basically destroyed their marriage. Brittany was not happy with what she saw." A second source added.
Tyler Stanaland a professional surfer and realtor got engaged to Brittany Snow on February 19, 2019, after meeting each other thru mutual friends.
"We had a bunch of friends in common, and he actually reached out to me on Instagram with a really lame pickup line," she said.

We got tacos after years of being infatuated with one another and forgot how to speak entirely," Stanaland recalled. "There was a certain amount of tequila consumed, and then we just started talking a lot. Then we fell in love and nothing's really changed, we're still eating tacos and margaritas together."
They got married to the Pitch Perfect actress in Malibu on March 14, 2020.
 "Most of our family and friends are in Southern California, so we chose a location with the least amount of travel," says Snow. "Malibu was close to home and Cielo Farms has a stunning backdrop. It was the location of our dreams. We wanted something that felt intimate, warm, beautiful and scenic."
Tyler Stanaland graduated in 2007 from Laguna Beach High School, in 2011 got his degree from Orange Coast Colle and studied communications from Vanguard University of Southern California.
From March 2015 to May 2017, Tyler Stanaland was the clothing marketing manager at Catch Surf; later on, in 2010, worked for over eight years as a realtor at HÔM Sotheby's International Realty, Hilton & Hyland from January 2019 to June 2020, Villa Real Estate from August 2020 to March 2022. Stanaland joined the Oppenheim Group in November 2021.
Don't forget to check the Photo Gallery & Video

Below
trending stories
Trending on WAGCENTER.COM