Meet the wife of failed Lehman Brother's former VP Melinda Milberg, she is also known as Melinda Milberg, Melinda B Milberg, Melinda B Thaler or Melinda D Milberg.
Thursday at Manhattan Supreme Court it was the turn for 50-year-old Melinda to take the stand in the assault trial she and her husband are battling. According to the New York Daily News, the couple who has been married for the past 16-years are going through a bitter divorce and where once was love and "museums, movies music concerts… ballet, opera," is now left with animalistic grunts and bites?
According to the 50-year-old Melinda, her former Lehman Brothers vice president hubby threatened to kill her during a violent April 1 attack that took place at their upper West Side home. She testified earlier today:
"He let out an almost animalistic grunt and sunk his teeth into my flesh," "He started to grind his teeth into my flesh and then he released his bite."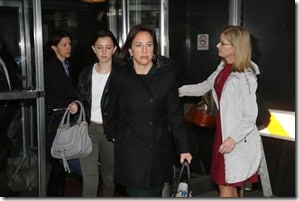 She is seen below leaving, the court where she was at the verge of tears but kept her composure the entire time.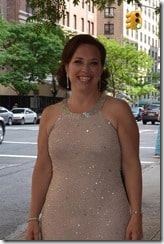 Melinda Beth Thaler, the daughter of Sheldon Thaler of Princeton, N.J., and the late Beverly Casper Thaler was born on December 12, 1962. She graduated from Cornell University and received a law degree from George Washington University. Her father, who is retired, was a vice president of Geomed Inc., a medical products company in Middlesex, N.J., and an inventor holding 25 patents. Her mother was a social worker at Trenton Central High School.
She and her still husband David, met on a trip to Israel in 1994 and were soon in love, married in 1997 by Rabbi Robert I. Summers in the Pegasus Suite at the Rainbow Room in New York; they soon began a family and have a 14-year-old daughter together. She was 34-years-old when she said "I Do" to David Jonathan Milberg, and worked as a senior lawyer at the AT&T Corporation in New York. Her experience in commercial law includes working as an Associate at Crowell & Moring, from 1989 – 1992 and before that she was a Law clerk at Hon. Philip Nichols, Jr., U.S. Court of Appeals, Federal Circuit.
In 1994 she was co-author to "Mandatory Prediscovery Disclosure:  A First Look,"  and in 1996 she published "Operational Results of Federal Mandatory Prediscovery Disclosure Reform"
Melinda was also a teacher at Fordham University School of Law up until last year; she taught Drafting for Regulated Industries, Legal Writing for LL.M.'s and Principles of Legal Drafting.
So do you think she is a victim here or like her husband's lawyer says, "a vindictive liar" ??
You can find her on Facebook here and on LinkedIn here.
Don't forget to check the Photo Gallery & Video

Below
trending stories
Trending on WAGCENTER.COM