Judith Giuliani
Judith Giuliani is the third and current wife of politician, lawyer, businessman and speaker Rudy Giuliani –married since 2003 the couple has been together for 15-years.
Judith's husband is perhaps best known for his previous role as Mayor of New York from 1994 until 2001. Born Rudolph William Louis Giuliani on May 28, 1944, he is credited in lowering the rate of violent crimes and has been lauded for his leadership in the aftermath of the September 11 terrorist attacks in 2001.
Prior to becoming a Mayor, Giuliani clerks for Judge Lloyd MacMahon, for the Southern District of New York following his graduation from Law School. As a U.S. attorney for the Southern District of New York during the 80's he gained national prominence for prosecuting, among others, Ivan Boesky, Michael Milken, and various mafia figures.
Named Time's Person of the year in 2001, Giuliani is also a cancer survivor and former presidential candidate. But you probably knew all that, whom we really want to tell you about is the missus, Judith Giuliani.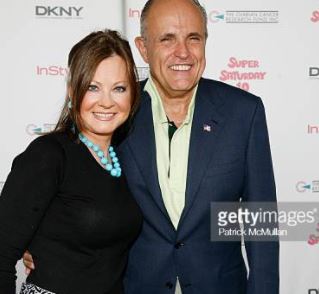 #1 She was born Judi Ann "Judith" Stish
Judith was born December 16, 1954; the daughter of Donald and Joan Stish.
#2 She is a nurse
Judith Giuliani graduated with a registered nurse diploma in 1974, however since becoming the wife of Rudy Giuliani she transitioned into fundraising for charitable organizations. She was also the founding board member of the Twin Towers Fund.
#3 She was previously married
Judith and first husband, Jeffrey Ross -a U.S. Surgical salesman six years her senior –tied the knot in 1974. The couple separated amicably after four years of marriage. She and second hubby, Bruce Nathan ended their marriage in 1992 after being hitched in 1979 only five days after his first divorce had been finalized. From that marriage she is the mother of a daughter, Whitney –whom the couple adopted in 1985.
#4 Judith is Giuliani's third wife
His first marriage, to Regina Peruggi, was annulled after 14 years when Giuliani discovered he and his wife were second cousins. On April 15, 1984; he married Donna Hanover with whom he fathered two children, Caroline born in 1989 and son, Andrew born in 1986.
#5 She and Rudy Giuliani are divorcing
According to Page Six, the couple is divorcing after 15-years and will have to divide their properties 'in New York and Palm Beach.'
Don't forget to check the Photo Gallery & Video

Below
trending stories
Trending on WAGCENTER.COM