From the beginning of his campaign to become the next President of France, a young woman unknown to the general public seemed unavoidable in all of Eric Zemmour's movements.
The far-right polemicist who wants to replace Emmanuel Macron in May 2022 presented Sarah Knafo as his political advisor.
Nevertheless, the celebrity magazine Closer revealed that Eric Zemmour had an intimate relationship with this 28-year-old girl by publishing explicit photos of their proximity on a beach in the south of France. Subsequently, Eric Zemmour indicated that Sarah Knafo was indeed his new companion and French websites even indicate that Sarah Knafo is pregnant.
So who is Sarah Knafo, Eric Zemmour's lover?
Here are the main things you need to know about Sarah Knafo, Eric Zemmour's new girlfriend.
1/ Sarah Knafo is 35 years younger than her lover, Eric Zemmour.
Sarah Knafo was born on April 24, 1993 in Les Pavillons-sous-Bois, a small town north of Paris. The age difference with Eric Zemmour is therefore 35 years ! Like her future husband, she comes from a Jewish family from North Africa. She had a peaceful childhood and a brilliant education (Science Po Paris and ENA, two elite universities in France).
2/ Sarah Knafo worked at the French Embassy in Libya
During her studies, she did an internship at the French Embassy in Libya, relocated to Tunis because of the Libyan civil war. It was at this time that she specialized in the management of migratory flows, a theme dear to her future lover, Eric Zemmour.
3/ She is the director of Eric Zemmour's presidential campaign
Officially "strategic director" of the campaign of her companion, Eric Zemmour, it is whispered that Sarah Knafo has strongly participated in federating the various currents of the French extreme right behind a candidacy of Eric Zemmour. She has organized many meetings between the French polemicist and extreme right-wing figures such as Marion Maréchal Le Pen or Nicolas Dupont-Aignan.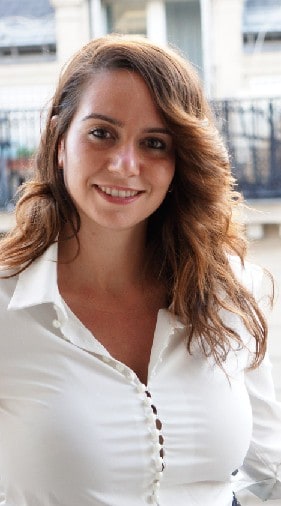 4/ She could become the youngest First Lady of France in history.
If Sarah Knafo's future husband, Eric Zemmour, becomes the new President of France, Sarah Knafo would be the youngest First Lady in French history. It would not be the first time that a French President officially lives in the Elysée Palace with a new wife, we will obviously mention Carla Bruni-Sarkozy and Valerie Trierweiler (second wife of François Hollande) as famous precedents. On the other hand, it will be the first time that such an age difference would exist between a French President and his companion.
5/ She would have been the girlfriend of one of the sons of Nicolas Sarkozy
According to the very serious newspaper Le Monde, Sarah Knafo would have posted on social networks "tender photos with Louis Sarkozy" in November 2013. So this is not the first time that Sarah Knafo is attracted to men close to power.
Conclusion on Sarah Knafo, the future wife of Eric Zemmour
You will have understood that Sarah Knafo is a studious young woman with an important network within the French extreme right which naturally made her meet Eric Zemmour, before becoming, during the French presidential campaign, the official companion of the candidate. If her future husband, who presents himself as "the French Donald Trump", wins the French presidential election in May 2022, she would be the youngest First Lady in French history. By the way, she is the same age as Tiffany Trump.
Don't forget to check the Photo Gallery & Video

Below
trending stories
Trending on WAGCENTER.COM