Sydney Davis
Sydney Davis is the long time wife of TV host, Billy Bush. Her man is best known as the former anchor of Access Hollywood and the Today Show. The lovely blonde has been married to Bush since April 1998 and is the mother to their three daughters.
Sydney Davis sure knows what 'in good and bad' means. She stayed with her hubby despite his involvement in a 2005 tape in which he and future president, Donald Trump made graphic sexual jokes. As a result, her man was fired from his job by NBC.
Her hubby who is the nephew of President George H.W. Bush and cousin to President George W. Bush –stated in interviews the couple has remained strong despite rumors of trouble in their marriage. Would you have supported Bush? Let's meet the wife and mom of three.
Sydney Davis Bush was born Sydney Joanna Davis on April 6, 1972. She is the daughter of Clifford Perry Davis and Barbara R Davis.
Sydney Davis and Bush tied the knot on April 4, 1998. When the couple lived in Los Angeles, Bush was able to spend time with the family because Access Hollywood didn't have crazy work hours.
The couple have welcomed three daughters during their marriage, Josephine, Mary and Lillie –born October 17th, 2004. The couple allowed their eldest, Josephine who also goes by Josie –to get a tattoo for her 18th birthday last August.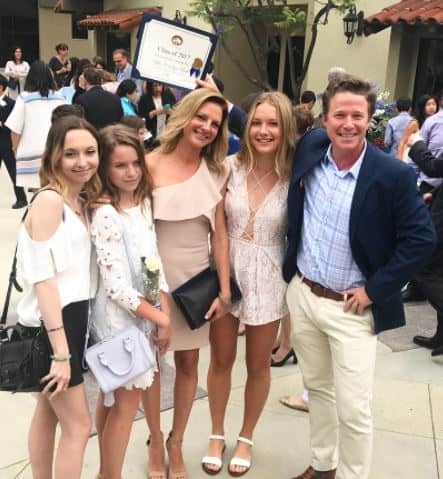 The blonde who is in her 40's and looks as hot as ever, has always kept a low profile despite her husband's career and last name.
We assume she has kept busy raising the couple's three daughters and is not like she needs a job, with Bush cashing in his million dollar salary.
Though Sydney isn't into the entertainment industry, Bush has made sure to tell us about her. In a mother's day post last year, he called his wife "spectacular." "Stronger than she knows, as beautiful as can be and very popular in our house,"
"She is not my mom but I see her in action every day. Happy Mother's Day to Sweet Syd."
Check out Sydney Davis on Instagram here.
Don't forget to check the Photo Gallery & Video

Below
trending stories
Trending on WAGCENTER.COM