Vanessa Trump
Vanessa Trump is the loving and supportive wife of Donald Trump Jr. –making her a direct member within the presidential family.
Vanessa's hubby and her brother-in-law, Eric, are running the Trump Organization while their father is in office. She and Don Jr. are said to be struggling with their marriage after reports surfaced saying they are already living separate lives.
But just who is Vanessa Trump, meet the wife, mother and former actress in her top facts below.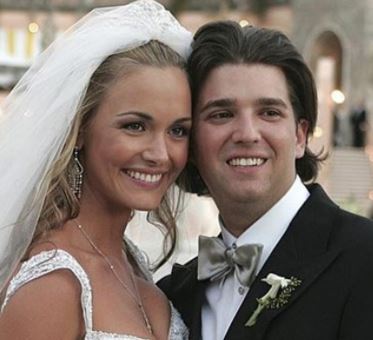 #1 She is a New Yorker
She was born Vanessa Kay Haydon, on December 18, 1977 in New York City. She was raised in a townhouse on the fancy Upper East Side of Manhattan.
#2 She has been appearing in shoots from a young age
Vanessa has been starring in photo shoots since she was a child since her mother, Bonnie Haydon, ran the agency Kay Models.
#3 She is a former high school athlete
Vanessa Trump was a keen tennis player during her school days.
#4 She has a sister
Her sister, Veronika Haydon is also a model
#5 Vanessa is a former actress and model
She has appeared in Something's Gotta Give, with Jack Nicholson and Diane Keaton, in 2003. Credits also include appearing on The Apprentice. The model has also dabbled in the world of designing, releasing her own handbag line La Poshett in 2010.
#6 She has been married for 13-years
Vanessa and Donald Trump Jr tied the knot at Mar-a-Lago, the President's Florida resort, in November 2005.
#7 She is a mom of five
The couple has welcomed a total of five children, Kai Madison, Donald III, Tristan Milos, Spencer Fredrick and Chloe Sofia.
#8 She isn't into politics
Vanessa keeps a low profile and that includes not using her social media platforms to discuss or engage into political matters. Instead she focuses on sharing cute family pictures.
#9 She holds a college degree
The stay at home mom, attended the Dwight School, and went into study psychology at New York's Marymount Manhattan College.
#10 She suffered a health scare recently
Last month, Vanessa was taken to a hospital as a precaution after she opened a letter addressed to Don Jr., mailed to their Manhattan home. The letter contained an unidentified white powder.