Laura Grey
Laura Grey is the proud wife of comedian, actor, TV host, commentator and producer Jordan Klepper.
Laura's hubby is in quite a pickle following reports of his arrest in Atlanta. Apparently, the 39-year-old got busted by cops in Atlanta during a protest to support undocumented students. He and others were charged with criminal trespassing.
Born on March 9, 1979; the Michigan native is best known for appearing on almost 200 episodes of Comedy Central's 'Daily Show.'
Jordan is also the former host of Comedy Central's satirical late-night show, 'The Opposition,' which was canceled last summer after its first season. Laura's hubby currently works on his own show 'Klepper' –a half-an hour weekly venture.
Thankfully for Jordan, he can count on wife Laura Grey, to bail him out. Meet her below.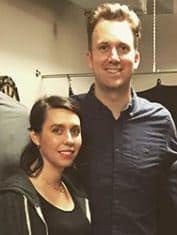 #1 Laura is also in the bizz
Laura who is also a comedian, actress and writer in her own right, met Jordan while they both were members of The Second City and Upright Citizens Brigade. She has a degree in poetry from Northwestern University.
#2 They have worked together
The couple not only met and fell for each other at an improvisational and sketch comedy group, they also wrote, produced and starred in short films. She also served as head writer on the Comedy Central special Jordan Klepper Solves Guns.
#3 They have been married for a few years
Laura Grey and Jordan Klepper tied the knot on September 22, 2013 in Brooklyn, New York –where the couple currently lives.
#4 Her work won her awards
Her series Ex-Girlfiend won the TruTV development award at the New York Television Fest, and she co-created Faeries for IFC's Comedy Crib. Her pilot, House of Delta (co-written with Megan Stein) was bought by Universal Cable Productions with UCB attached to produce. Her other original work has been featured on Above Average, Go 90, Reductress, SXSW, Slamdance, and the Tribeca Film Festival.
She's also appeared in the Sony feature, Rough Night alongside Scarlett Johansson and in Amy Sedaris' Seriously Distracted.
#5 She is active on social media
Check her out on Instagram here.