Elaine Chao
Elaine Chao is the lovely wife of Senate Majority Leader, Mitch McConnell –who signaled during an interview that a president can be impeached but not indicted.
Elaine's husband was born Feb. 20, 1942, in Sheffield, Alabama; and was raised in Louisville, Kentucky by parents Addison Mitchell McConnell and Julia Shockley.
He graduated with honors from the University of Louisville College of Arts and Sciences. He then pursued a law degree from the University of Kentucky College of Law and graduated in 1967.
McConnell got his start as an intern on Capitol Hill for Kentucky Republican Sen. John Sherman Cooper. He worked as chief legislative assistant to Kentucky Republican Sen. Marlow Cook from 1968 to 1970. He served as deputy assistant attorney general under President Gerald Ford. He returned to Kentucky and served as judge-executive of Jefferson County from 1978 to 1985.
In 2009, McConnell became Kentucky's longest-serving U.S. senator. McConnell has been married twice, first to Sherrill Redmon –with whom he fathered three children, Elly, Claire and Porter McConnell.
He married current wife, Elaine Chao on February 6, 1993.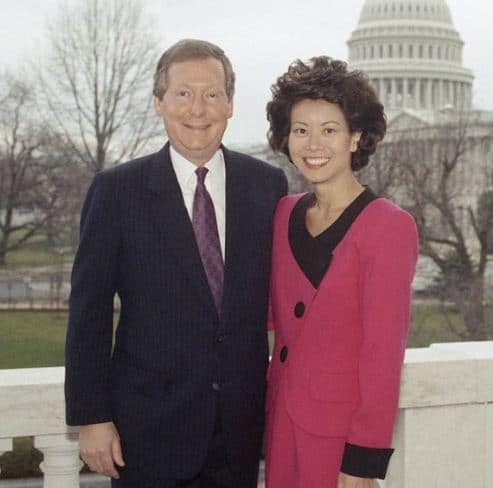 Chao served as President George W. Bush's labor secretary and is President Donald Trump's Secretary of Transportation.
She was born Elaine Lan Chao on March 26, 1953 in Taipei, Taiwan but grew up in New York after her parents left in 1949. The daughter of Chinese parents became the first Asian American woman and the first Chinese American in U.S. history to be appointed to a President's Cabinet.
Prior to her appointment as Secretary of Transportation, she was a Distinguished Fellow at Hudson Institute. She earned her MBA from the Harvard Business School and an economics degree from Mount Holyoke College. For her work in public service she is the recipient of 37 honorary doctorate degrees. Chao and her husband are often described as one of the most powerful couples on the US political scene.
Check out photos of Elaine Chao in Instagram here.