Kelly Navarro
Kelly Navarro is the lovely wife of wealthy South Carolina businessman, Ben Navarro –who is said to be interested in buying the Carolina Panthers.
Kelly's husband is best known as the founder and Chief Executive Officer of Sherman Financial Group, the nation's largest privately held consumer finance company. However, the entrepreneur also has ties to sports, his father is former college football coach Frank Navarro.
Her husband is widely known for his success as an entrepreneur. He holds a B.S. in Finance from the University of Rhode Island and began his career at Chemical Bank with stints at Goldman Sachs and Citicorp.
As for his family life, Navarro has been happily married to the lovely Kelly Navarro for years. Meet her below.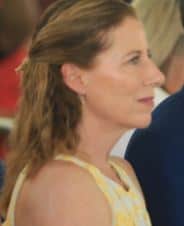 #1 Kelly Navarro's father in law is Frank Navarro
Frank Navarro, coached both the Princeton and Colombia football teams.
#2 Her husband is also the owner of Mount Pleasant's LTP Tennis and Swim Club and founder of Meeting Street Academy.
Meeting Street Schools, "is a nonprofit educational" that runs a public school under private management in "a low-income part of North Charleston." It opened the school in 2014.
#3 Kelly Navarro is a proud wife and mother
Since their nuptials, the couple has welcomed four children together including daughters Emma and Meggie Navarro.
#4 Her daughter is a star tennis player
The couple's eldest daughter Emma, is a promising young tennis player in South Carolina who has committed to play at Duke, according to the Post & Courier.
#5 She lives with her family in South Carolina
Property records indicate the Navarros bought an 18th century home on Charleston's famed Broad Street for $3 million in 2010.
Don't forget to check the Photo Gallery & Video

Below
trending stories
Trending on WAGCENTER.COM