Adam Granduciel
Check out  Adam Granduciel; singer, guitarist, record producer, but first and foremost, the longtime girlfriend of actress Krysten Ritter, who you all have seen in an array of films, however, she rose to fame when she appeared on Netflix's t.v series Jessica Jones.
No doubt you all know plenty about Jess, therefore let tell you five awesome facts about her stud, Adam.
The first fact you need to know is that although we fame become familiar with his name, Adam Granduciel, he was as a matter of fact born Adam Granofsky on February 15, 1979, in Dover, Massachusetts.
He is one of two children born to Mark and Mrs. Paula Granofsky (nee Minichiello); also parents to Adam's big bro Burt.
Granduciel, attended Roxbury Latin School and Dickinson College, from where he graduated with a degree in photography and painting.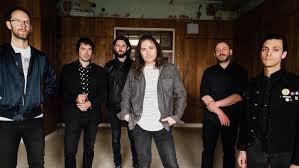 Adam and singer Kurt Vile, formed the indie rock band The War on Drugs in 2003, five years later they released their first album "Wagonwheel Blues."
Graduciel also collaborated with Vile's backing band The Violators, from 2033 to 2011. Vile left War on Drugs to pursue a successful solo career. Adam and War on Drugs have continued to released albums Slave Ambient in 2011, Lost in the dream in 2014 and A Deeper Understanding in 2017.
Adam and Krysten have been dating since August 2014.