Ahrendts and Gregg, met in elementary school and had a 17-year long-distance relationship. Angela lived alone during those years in a fourth-floor midtown Manhattan walk-up, working 80 hours a week, while Gregg stayed in Indianapolis. After they married, in their 30s, Gregg moved to Manhattan and built a contracting business, which he gave up when they moved to London in 2006.
53 year old Gregg Jennings Couch was born in New Palestine, Indiana, he graduated from New Palestine High School and then attended at Ball State University in Muncie, Indiana. Gregg is a quiet man who loves to wear jeans around the house. He also likes to cook, sharing dinner duty with their oldest daughter Sommer, when she's at home. He and Angela are also the parents of Jennings, 18, and Angelina 12.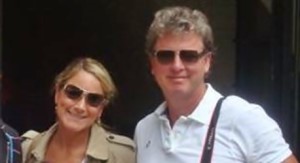 While they were in London, they founded the  AHRENDTS–COUCH FAMILY FOUNDATION UK, with the following charitable objectives:
TO RELIEVE POVERTY AND TO ADVANCE EDUCATION AND TO PROMOTE AND PROTECT GOOD HEALTH, IN PARTICULAR BUT NOT EXCLUSIVELY BY PROVIDING SUPPORT TO PEOPLE WHO ARE HOMELESS OR CHILDREN AND YOUNG PEOPLE WHO ARE SOCIALLY AND ECONOMICALLY DISADVANTAGED BY SUPPORTING CHRISTIAN FAITH BASED ORGANISATION WHO HAVE FACILITIES TO HOUSE, FEED, TEACH, INSPIRE AND HELP THEM TO DEVELOP THEIR CAPABILITIES SO THAT THEY MAY GROW TO FULL MATURITY AS INDIVIDUALS AND MEMBERS OF SOCIETY. Gregg is the legal representative for the foundation.
Now that they will be moving back to the USA, Gregg will be looking for some new projects to work on. Angela will most certainly be busy with her new job!