Amanda Burden
Amanda Burden is the girlfriend of disgraced journalist, Charlie Rose –once, one of the most iconic broadcast journalists.
Amanda's beau from several years, was known as an anchor for PBS and CBS until, his world came crashing down last November –when he was accused by multiple women of sexual misconduct.
The ex-anchor of CBS This Morning, denies any wrong doing but a recent report points out managers at CBS knew of his behavior and the number of women accusing Rose has gone up to 27. Will Amanda Burden remain by his side?
Meet her below.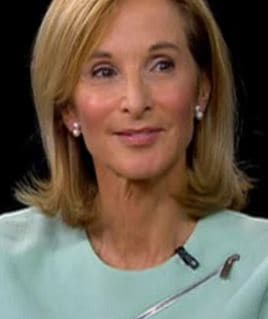 #1 She has been dating Rose for years
Burden is regularly described as Rose's on-and-off-again girlfriend of more than 25 years. While a current Bellport resident insists that they're not currently a pair, Rose and Burden attended Sesame Workshop executive Sherrie Westin's Chinese New Year's party in Bronxville in mid-February together.
#2 She does her own thing
Amanda Burden was the director of the New York City Department of City Planning and Chair of the City Planning Commission under Mayor Michael Bloomberg from 2002 to 2013. As commissioner, Burden was instrumental in the recovery and rebuilding of downtown Manhattan after the September 11 attacks.
#3 She remains as a Principal at Bloomberg Associates
Burden currently serves as a Principal at Bloomberg Associates, where she helps Bloomberg with his work on climate change.
#4 She is credited with revitalizing some of the city's most familiar features
Amanda Burden was responsible for the development of Battery Park City, a neighborhood on the west side of Manhattan created from the soil and rock excavated during the construction of the World Trade Center. She is also partially responsible for New York City's Highline Park and Downtown Brooklyn waterfront.
#5 She has connections
Her father was an heir to Standard Oil, and her mother was noted socialite Barbara "Babe" Paley. Her stepfather, William S. Paley, founded CBS.
#6 Burden has her own money
In fact, the blonde is a millionaire. According to Newsweek, she is estimated worth of $45 million. She owns a home, which she purchased in 2012 for $6 million.
#7 She has been married twice
Burden was married twice previously, first to S. Carter Burden Jr., -a Vanderbilt descendant and Robert Kennedy aide. Second husband was Steven J. Ross, the head of Warner Communications. She divorced husband number two in 1981.
#8 She is a mother and grandmother
She has two children from her first marriage, Flobelle Fairbanks Burden born in 1969 and S. Carter Burden III.
#9 Rose is close to her children
Burden herself has said Rose is close to her children, as a result he is the godfather to two of Burden's grandchildren.
#10 She takes inspiration from her mentor
According to a profile on Ted.com, Amanda takes inspiration from the influential urban theorist William H. "Holly" Whyte.