Douglas Brunt
Meet Douglas Brunt; this hunky fella is the supportive husband of journalist and news host, Megyn Kelly, the host for NBC News until her firing on October 26, 2018; after she commented that it was OK to use a blackface as part of a Halloween costume, adding that when she was a kid it that was okay as long as you were dressing up as like a character.
"I realize now that such behavior is indeed wrong, and I am sorry", and that "I've never been a 'pc' kind of person — but I understand that we do need to be more sensitive in this day and age. Particularly on race and ethnicity issues which, far from being healed, have been exacerbated in our politics over the past year. This is a time for more understanding, love, sensitivity and honor, and I want to be part of that. I look forward to continuing that discussion."
the damage was already done and a few days after her apology, she was out as host of NBC News
As for her private life, Megyn Kelly is happily married to hubby, Douglas Brunt. Mett him below in his top-five-facts.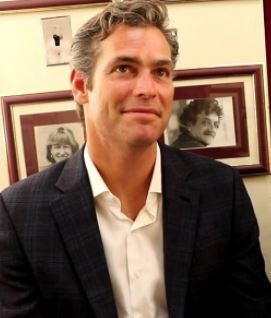 #1 Douglas Brunt is her second husband
Megyn has been married twice, the first time being to anesthesiologist, Daniel Kendall in 2001. The couple divorced after five years in 2006.
Two years later, in 2008 she walked the isle for a second time, this time to wed current hubby, Douglas Brunt. It was the first marriage for him.
#2 He is the father of her children
Following their nuptials, the couple have welcomed three kids: son Edward Yates, born in 2009; daughter Yardley Evans, born in 2011; and son Thatcher Bray, born in 2013
#3 He is a full time novelist
Douglas Brunt is the author of the New York Times bestseller Ghosts of Manhattan and The Means. His most recent book is Trophy Son, released last May. Check out his website here.
#4 He wasn't always a writer
When the couple first met, Douglas worked at Authentium, Inc., an Internet security company. He served as the CEO of Authentium until 2011.
#5 He is a Philadelphia native
Brunt who currently resides in New York with his wife and kids, was born August 25, 1971, in Philadelphia, Pennsylvania. He studied at the Haverford School in Haverford, Pennsylvania and is a graduate from Duke University.
Find Douglas Brunt on Twitter here.