Peter Palandjian
Peter Palandjian is the silver fox husband of TV and film actress, Eliza Dushku – well known for a number of roles in both TV and the big screen.
Peter's wife recently made headlines after she revealed she was paid millions in a sexual harassment settlement.
Born December 30, 1980; the Massachusetts native studied piano and drums and practiced several types of dance growing up. She began acting in her teens and has been casted in True Lies, The New Guy, Bring It On and Jay and Silent Bob Strike Back.
Eliza played lead roles on the Fox TV series Dollhouse and Tru Calling and also had a recurring role on Buffy The Vampire Slayer alongside Sarah Michelle Gellar. Being super famous you'd think she would wed a fellow actor, however hubby Peter isn't into the entertainment world. Check him out in his top facts below.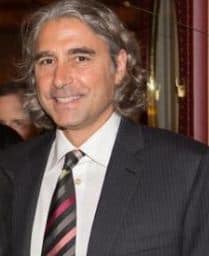 #1 She and Peter have only been married for months
The brunette tied the knot to Peter Palandjian last year. The couple walked down the aisle in a secret ceremony at Boston Public Library. They wedded on August 18, 2018. The two became engaged in 2017. Eliza previously dated former basketball player Rick Fox.
#2 He is much older than she is
Peter who is of French descent, was born February 12, 1964; the Boston native is Eliza's senior by 16-years.
#3 Peter is a former tennis player
Palandjian was a professional tennis player in the late 1980s, and even won against Pat McEnroe (John McEnroe's youngest brother) at the NCAA Championships in 1986.
#4 He left the sport to become a real estate mogul
Peter attended Phillips Academy in Andover, Harvard University –where he studied English and American Literature; and Harvard Business School –where he his MBA, Business Administration and Management.
According to his LinkedIn, the 55-year-old is currently listed as the CEO of Intercontinental Real Estate Corporation.
#5 He has at least four kids
Peter who is believed to be a divorcee, is the father of four children. From his previous relationship he is the proud father of Manon Palandjian, Petros Palandjian, Margot Palandjian and Madelon Palandjian.
Wife Eliza is currently expecting the couple's first child –who will make for Peter's fifth kid.
Check out Peter Palandjian on Instagram here.