Snapchat has become Apple's top 10 apps in the iTunes AppStore, one of Snapchats founders is Evan Spiegel, the handsome young man we are about to introduce you to, but because this is WagCenter not TechCruch or any of those tech sites we love so much, we are here merely to meet  the lucky gal dating Evan Spiegel, she is no stranger to media after all Speigel's soon-to-be wife Miranda Kerr is the Australian fashion model once married to actor Orlando Bloom father of her adorable son Flynn.
Because we get to meet Evan's better half , let us tell you him, I'm telling he is quite a catch!!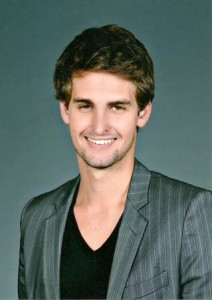 Miranda Kerr's tech stud, Evan Thomas Speigel is the only son of John Spiegel, 65, and his ex wife Melissa Ann Thomas, 68, had, but not their only child, Evan has two beautiful young sisters. According to Gawker's Valleywag, both of Evan's parents are wealthy lawyers who were happy to give their children almost anything they asked for. Her mom graduated from Harvard
In the same Valleywag article mentioned before they described Evan as another Spoiled L.A  brat, after he got his driver's license his parents gave his the family used 2006 Cadillac Escalade, not a  new car, "used", his dad was criticized because he asked his friend to let Evan park his car inside his property located next to the school Evan was enrolled to and who didn't allow him to park on campus, Why didn't the school let him park on campus? why is so bad for a parent to watch over his child safety when the only thing he had to do was to ask his friend who lives next door t0 let his son ark his car? I don't see what so bad about that!
Some time after that and after Mr. and Mrs. Spiegel divorce Evan received a brand new BMW 550i, these days and after Snapchats millionaire revenue Evan is driving a beautiful Ferrari.
Evan studied Graphic Design, Advertising, Letterpress Printing at the Art Center College of Design from where he graduated in 2008 the same year he was awarded with the Columbia Scholastic Press Association First Place Award for Newspaper Infographics.
Spiegel would have a B.S in product design from Stanford University but he dropped out of college three classes shy from graduation, the reason ????? well, having started Snapchat a year earlier he and fellow co-founder Bobby Murphy, Evan decided he was putting all his energy in the promising app.
Everything was going pretty smooth until Frank Reginald Brown a former classmate at Stanford claimed he was the one who came with the whole concept of Snapchat, but that topic is way to long and way too boring to discuss, let's move on to more interesting stuff, live Evan Spiegel's love life
Which for my disappointment was for some time not that much fun either, there was no sign of any girl in Evan's life, or a boyfriend either, at least that is what we knew until our girl Miranda showed up!
Evan moved back with his dad and he told the Huff Post he will continue to live there until Mr. Spiegel kicks him out, or until he finds a very, smart lady with a king size bed and a cool giraffes painting by Julien Isaacs.
Miranda Kerr was born Miranda May Kerr on April 20, 1983 in Sydney, but raised in the small town of Gunnedah, New South Wales. The daughter Therese and John and sister of younger brother, Matthew, grew up –contrary to what you might think –riding horses on her grandmother's farm. Kerr who is of English, French and Scottish descent was soon swept away by the modeling world and began modeling in her teens once her family moved to Brisbane to allow Kerr and her brother to experience city life, where she graduated from All Hallows' School in 2000.
Kerr began doing some modeling when she was 13, starting at Chaay's Modelling Agency, and soon after winning a 1997 Australian nationwide model search hosted by Dolly magazine and Impulse fragrances. Kerr originally went on to study Nutrition and Health Psychology before pursuing modeling.
Her career took a major leap when in 2007 she became one of the acclaimed Victoria's Secret Angels. She is the first Australian to participate in the Victoria's Secret campaign, and also represents Australian fashion chains Portmans and David Jones.
Kerr started her professional career in 2003 when she signed with Parisian agency  Madison Models. She then made the move to the U.S. and while in New York, Kerr had a multitude of runway appearances and then signed with NEXT Model Management in early 2004. From there, she was booked for runway and print campaigns for major labels, including Alex Perry, Baby Phat, Lisa Ho, Voodoo Dolls, Levi's, Bettina Liano, Nicola Finetti, L.A.M.B., Heatherette, Betsey Johnson, Trelise Cooper, Jets, John Richmond, Blumarine Swimwear, Neiman Marcus, Seafolly Swimwear, Anna Molinari, Rock and Republic, Roberto Cavalli, and Ober Jeans.
Kerr was also booked for print in magazines such as Elle, Australian Vogue and Harper's Bazaar, and was featured in television advertisements for brands like Portmans, Bonds, and Veet.
In 2006, she broke into the United States market when she signed a lucrative cosmetics contract with Maybelline New York. The campaign ran in a series of internationally sold women's beauty magazines, including Cosmopolitan, CLEO, and Elle, and was eventually featured in Victoria's Secret catalogues.
Kerr's popularity continued to increase as one of the globally recognized Angels when she appeared in the Victoria's Secret 2006, 2007, 2008, and 2009 televised runway shows, which aired on four continents. From this success, Kerr has been featured in V Magazine, FHM, Dolly Magazine, Harper's Bazaar Australia and Madison Magazine.
By 2007, Kerr had signed on as the face of Californian fashion retailer Arden B.  Kerr made a small guest appearance in the CBS sitcom How I Met Your Mother alongside fellow Angels: Adriana Lima, Marisa Miller, Alessandra Ambrosio, Heidi Klum, and Selita Ebanks.
The veteran model knows all about being featured in the covers of Rolling Stone Australia magazine, Harper Bazaar Australia, CS magazine, Sunday Magazine, Tempo magazine Turkey, Cosmopolitan magazine Spain and GQ Germany magazine.
The model has proved to be quite the business woman as well. Kerr launched an organic skincare line, Kora, in Australia with co-founder George Moskos. She is currently signed with IMG Models in Paris, London, Milan and New York, Traffic Models and Chic Management.
Miranda is definitely not to be messed with. She has been named as one of Forbes Top 10 Earning Models and needless to say, one of the sexiest. It was too bad when her marriage to Orlando Bloom came to an end in 2013 after three years of marriage.
But don't be too sad about her, it appears she has found love again with handsome, Evan Spiegle. The mother of one will walk down the isle one more time with her younger beau, whom she has been dating for a year.
And in case you're wondering about little Flynn Christopher Blooom, -who will become Evan's stepson -Miranda has that covered too. According to the Daily Mail, she waited six months before she introduced Evan to her five-year-old son. Evan even got Orlando Blooms approval according to the model. You can check out a picture of her engagement ring here.
Follow Evan Spiegel on Twitter here