Eve Schiff
Eve Schiff is the lovely wife of congressman Democratic politician Adam Schiff -who represents California's 28th congressional district.
Eve's husband is the ranking Democrat on the House Intelligence Committee and who is recently facing controversy after his 'unique' paraphrasing of the transcript of President Donald Trump's call with Ukraine President Volodymyr Zelensky.
The 59-year-old can at least count wiht the support of longtime wife Eve. The two have been married for nearly 25-years. The couple is known for being super supportive of each other. Meet her below.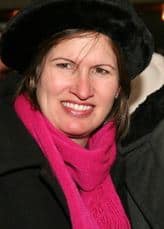 #1 She used to be a Tennis player 
Eve Schiff was born Eve Sanderson, she used to be a tennis player and was active in the game for most of her youth.
#2 Eve met husband Adam on a Tennis court 
It was on a tennis court in Marina del Rey back in 1990 that she met future husband, Adam. The two dated for five years and were married on on February 19, 1995.
#3 Eve is the mother of the couple's two kids 
Since their nuptials 24-years-ago the two have welcomed two children. Eve Schiff gave birth to daughter Alexa Marion on July 1998 while son, Elijah Harris was born in July 2002.
#4 She's been dedicated to her family 
Since starting her family Eve quit the sport to focus on caring for her children. However the wife and mom of two picked the sport back up years later.
Adam who is always praising her on social media wrote admirably: "She's great. She's a good role model for me because she's out there working out every day."
#5 Eve Schiff has kept busy being involved in volunteer work.
She used to volunteer where they lived in California, and she continues to volunteer after they moved to D.C. She has volunteered on four different PTA committees at one time, despite the grueling schedule. They relocated to D.C. from California because they hated the prolonged absences that kept them apart.