Heidi O'Ferrall
Heidi O'Ferrall is a gamer and cosplay star married to YouTube personality, actor and writer Jared Knabenbauer –known better by his YouTube channel, ProJared.
Heidi's hubby is accused of cheating on her with mistress Holly Conrad.
Jared is a Wisconsin native born on August 28, 1985; his fraternal twin brother, Derek, is also a YouTube personality known as DKlarations.
Jared has been around in the community circa 2006, he started reviewing videos and uploading around 2010. The YouTuber and gamer is known mostly for his comedic video game review; his ProReviews, One Minute Reviews, and Nuzlocke.
He's been married to fellow gamer, Heidi for a few years however that may be about to change.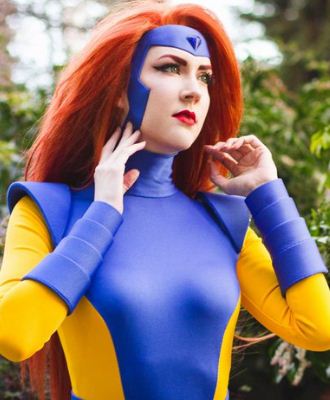 #1 Heidi is a Texas native
Heidi O'Ferrall was born April 1, 1988. The Texas native is an award-winning cosplayer, designer, and artist. She attended the University of Texas at Arlington obtaining a Bachelor of Fine Arts in Theatrical Technology and Design. While attending college she interned for God Save the Queen Fashions in 2014.
#2 She is a gamer in her own right
Heidi has previously appeared as a cosplay guest and/or judged cosplay contests for these events; Kitsune Con 2016, Anime Austin 2016, Dallas Comic Con Fan Days 2015, Oni-con 2015, Retropalooza III, RTX 2015 and Con Bravo 2015.
You may also recognize her from her appearance on Jared's Asagao Academy series. She portrays the role of Hana in the series.
#3 She and Jared have been married since 2014 but are now divorcing
She and Jared tied the knot in 2014, however Jared recently announced they are divorcing despite his efforts to make their marriage work. That's when Heidi fired back in a tweet accusing him of the alleged cheating.
#4 She has her own atelier
In addition, Heidi is also a designer who specifically works with leather. According to her website, she specializes in leatherworking and sewing, but her portfolio includes everything from makeup to casting and foam fabrication. Heidi focuses her efforts on excellent craftsmanship and versatility. Her work has been featured by IGN and Kotaku.
#5 She owns a clothing business
According to O'Ferrall's Twitter bio, she is a "professional artist & elf girl." In that bio, O'Ferrall says that she is the owner of Forest Girl Clothing. O'Ferrall jokes on her business website that she runs the company with the help of her cat, Aries.