Marlene Ricketts
Marlene Ricketts is the loving and supportive wife of T.D. Ameritrade founder J. Joe Ricketts.
Her billionaire husband is an online stock trading pioneer who founded brokerage firm Ameritrade four decades ago in Omaha, Nebraska and took it public in 1997.
His company acquired TD Waterhouse for $2.9 billion in stock and cash in 2006 and renamed itself TD Ameritrade. According to Forbes, TD Ameritrade said it would acquire competitor Scottrade for $4 billion; the deal closed in Sept. 2017.
Born John Joseph on July 16, 1941, the Nebraska businessman has been retired from TD Ameritrade since 2011 and has since pursued a number of ventures including DNAinfo.com, High Plains Bison, The Lodge at Jackson Fork, and The American Film Company.
He owns about 9.5% of the company, with his wife Marlene holding another 2.5% of the shares. He has been married to the lovely Marlene Margaret Ricketts for many years. Meet her below in her top facts.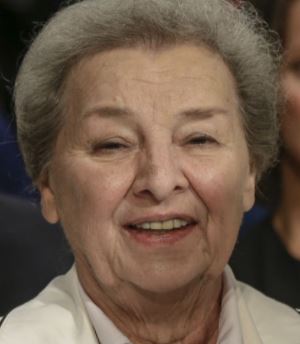 #1 Marlene Ricketts and Joe have been married for decades
Born Marlene Margaret Volkmer, she became the official Mrs. Ricketts in 1963, meaning the couple have been together for over five decades.
#2 Marlene is a proud mom of four
Marlene Ricketts and her husband welcomed three sons and one daughter. Ricketts' 4 children are the majority owners of the Chicago Cubs, which won the World Series in 2016 for the first time in 108 years.
#3 The Ricketts family bought the Cubs in 2009
Using their wealth from Ameritrade, Marlene and her husband bought the team almost a decade ago. They paid $845 million for a 95% interest in the team, Wrigley Field and 20% of Comcast SportsNet Chicago in 2009.
#4 Marlene Ricketts became known as the woman funding the effort to stop Trump
In 2016, the family made headlines for spending millions on negative advertising against Trump. Marlene was reported to have contributed $3 million to Our Principles PAC, a super PAC that blistered Trump with negative ads, voter guides and mailers ahead of the Iowa caucuses and the New Hampshire and South Carolina primaries.
#5 Her family also led the charge to discredit Obama
The family also led the charge to discredit President Barack Obama in his 2008 campaign by linking him to his former spiritual adviser, the Rev. Jeremiah A. Wright Jr., who is known for racially charged sermons.
#6 The Ricketts have also been known to donate millions to GOP presidential candidates
The family long has been an active supporter of GOP presidential candidates, donating millions of dollars to the now defunct presidential campaign of Wisconsin Gov. Scott Walker.
#7 She is the mother of Nebraska's governor
Tom Ricketts is the Cubs Chairman; while his brother, Todd Ricketts sits on the board of directors of the Chicago Cubs and TD Ameritrade.
Pete Ricketts, another son of Joseph and Marlene Ricketts, is a politician and the Republican governor of Nebraska.
#8 Marlene and Joe's only daughter is gay
Additionally, Laura Ricketts, the daughter of Joseph and Marlene Ricketts, is a prominent LGBTQ activist. Laura is a well-known figure in her adopted hometown of Chicago, both for being the first openly lesbian owner of a major sports franchise and for her work in pushing for marriage equality. In the past she was a board member at Lambda Legal.
Marlene Ricketts and her husband reside in Nebraska.