Mara Lane
Mara Lane is the lovely wife of Irish actor, Jonathan Rhys Meyers –well remembered by many for his role of King Henry VIII on the hit TV series, The Tudors.
Mara Lane and her hubby have been together for a few years with the pair tying the knot in 2016 –however it seems there may be trouble in paradise after the couple allegedly got into a fight while on a flight from Miami to Los Angeles.
TMZ reports that on the flight, Jonathan allegedly became "verbally abusive" towards Mara after they got into an argument. Jonathan was apparently cursing during the argument and other passengers reportedly became upset. The 40-year-old actor was eventually arrested upon landing and reports also say he appeared to be intoxicated. It's also well-known Mara's hubby has been to rehab several times.
Get to know Mrs. Rhys Meyers below.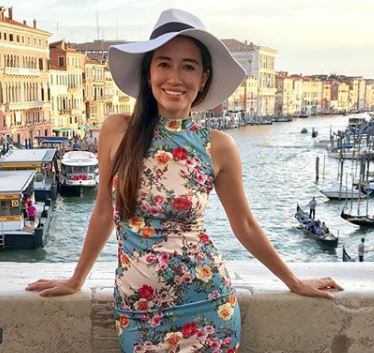 #1 She is an actress
Lane's starred in the little known Love Struck and Modern Music. According to IMDb, she's also landed a role on HBO's series The Brink. Lane is also listed as a producer.
#2 She is a mom
Mara Lane and Meyers are the proud parents of 19-month old son, Wolf –born on December 15, 2016
#3 Mara had a miscarriage
Lane shared on social media that she suffered a miscarriage while pregnant with the couple's second child
#4 She has defended her husband in the past
Last September photos of the Tudors star appeared as he was detained by a police officer at a Dublin airport appearing to be intoxicated. Lane took to social media to defend him saying Meyers had been coping with the recent loss of their second child saying
"Child was very very much wanted (right now especially by J, so he took the news particularly not so well) and we are still working with coping skills over here… when life throws us curve balls such as these"
#5 She has been open about her husband's demons
On the same post, Mara wrote about her hubby
"To some others, my husband is an Irishman who battles alcoholism and depression and drank between jobs to try to cope with the sadness of this news."
"I do not know anyone who has been through what he has been through and reached his level of successes. It does seem though that every time we seem to be making so much progress… sometimes it's like two steps forward, one step back."
#6 She's an animal lover
Lane is the proud owner of a dog named Toca and whom she takes everywhere –the wife and mom is constantly posting about all kinds of animals.
#7 She is active on social media
Check out Mara Lane on Instagram here.