Michael Haley
Meet Michael Haley! He is the husband of former South Carolina governor Nikki Haley, who also served as the U.S. ambassador to the United Nations serving in the Trump administration and is running for president of the United States.
Nikki Haley Short Bio
Michael's wife Nikki Haley, born Nimrata Randhawa on January 20, 1972, in Bamberg, South Carolina, is an American politician, diplomat, and influential figure in the Republican Party. Raised in a Sikh family of Indian immigrants, Haley's early life was shaped by her parents' entrepreneurial spirit and strong work ethic, which inspired her to pursue a career in business.
After earning a bachelor's degree in accounting from Clemson University, Haley joined her family's clothing business and later became its financial controller. Her interest in politics was ignited during this time, leading her to run for and win a seat in the South Carolina House of Representatives in 2004.
As a state legislator, Haley focused on fiscal responsibility, education reform, and economic development. She gained national attention when she decided to run for governor of South Carolina in 2010. Despite facing numerous challenges, including skepticism from the political establishment, Haley emerged victorious, becoming the first female and first minority governor of the state.
Governor
During her tenure as governor from 2011 to 2017, Haley championed job creation, infrastructure investment, and tax reform. Her leadership during the aftermath of the Charleston church shooting in 2015 and her subsequent push for the removal of the Confederate flag from statehouse grounds garnered widespread praise.
In November 2016, then-President-elect Donald Trump nominated Haley to serve as the U.S. Ambassador to the United Nations. Confirmed by the Senate in January 2017, she held the position until December 2018. As ambassador, Haley advocated for American interests, promoted human rights, and took a hardline stance against Iran and North Korea.
Since leaving public office, Nikki Haley has remained active in the political sphere, often sparking speculation about her future ambitions, including a potential run for the presidency. She released her memoir; "With All Due Respect: Defending America with Grit and Grace," in 2019, chronicling her life and career while offering insights into her principles and vision for America's future.
In February 2023, Haley announced her presidential campaign in the 2024 Party Presidential Pr9imary for the President of the United states in the 2024 presidential elections.
Michael Haley 5 Facts You Need To Know
As for her husband, Michael Haley is a former federal military technician with the South Carolina National Guard. He served with the South Carolina Army National Guard as a platoon leader. He is also a combat veteran, having spent 11 months in Helmand Province, Afghanistan.
He attended Hilton Head Prep School and the University of North Carolina at Charlotte. He holds a bachelor's degree in business administration. He previously worked for the clothing store founded by his mother-in-law, Raj Randhawa as a buyer and manager and later started his own finance business.
As the former first gentleman of South Carolina, his initiatives included the National Guard Youth Challenge program.
The Haleys were married in 1996. Michael Haley and Nikki performed wedding ceremonies in both a Methodist church and a Sikh gurdwara.
Together they have welcomed two children into their marriage, daughter Rena and their son, Nalin Haley. They live in Kiawah Island, in South Carolina.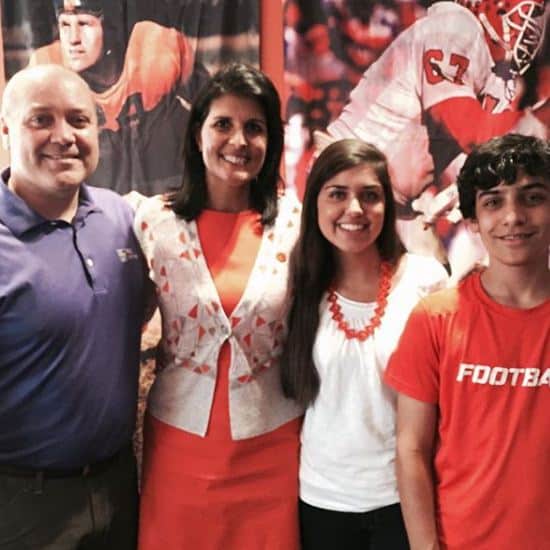 Find Michael Haley on Instagram here.