Anna Lundberg
Anna Lundberg is the gorgeous lady in a relationship with Welsh actor, Michael Sheen -the couple who has been dating for a short while will become parents soon!
Anna's baby daddy is widely known for his roles as Tony Blair in The Queen and David Frost in Frost/Nixon. He also appeared in the 1992 stage adaptation of Romeo and Juliet and played a role in the 2010 film, The Special Relationship. In 2013, he began playing Dr. William Masters on the Showtime series Masters of Sex.
Most recently, he began starring in Amazon's Good Omens with Benedict Cumberbatch.
Prior to his relationship with Anna Lundberg, the 50-year-old actor split from Beckinsale, in 2003 after eight years of dating. He then dated Sarah Silverman, with whom he was first romantically linked in 2014 before they split over the 2017 Christmas holidays. Sheen was last linked to Aisling Bea, a 35-year-old Irish actress and comedian.
Meet his current love in her top facts below.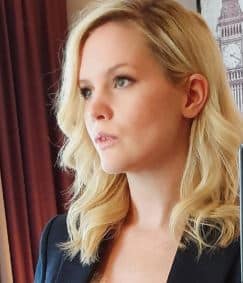 #1 Anna Lundberg is also an actress
Anna is an actress from Sweden who currently lives in New York City. According to her website bio, Lundberg attended N.Y.C.'s American Academy of Dramatic Arts and has a number of theater credits, including in Othello, Spring Awakening and Gloria.
#2 Anna is expecting her first child
This is Anna's first child and will be the second for Sheen, who also shares 20-year-old daughter Lily with ex Kate Beckinsale. Sheen and Beckinsale have remained close since their separation.
#3 She is a lot younger than Sheen
Lundberg is only 25, compared to Sheen who is 50, it meas she is his junior by half his age. She is only five years older than his own daughter.
#4 She got pregnant shortly after they started dating
Is not clear exactly when the couple began dating, however, reports of their relationship only surfaced in May. When Anna and Sheen met, he was still in a relationship with Aisling Bea -who was the spitting image of his famous exes Sarah Silverman and Kate Beckinsale.
#5 She is on social media
Anna shared an Instagram snap of them together at the London world premiere of his telly show Good Omens. She captioned it: "What an incredible night to be a part of! I'm overwhelmed with pride and couldn't be happier for Michael and the cast."