Misha Jannard
Misha Jannard is the lovely wife of billionaire entrepreneur, James Jannard –the founder of Oakley.
Misha's 69-year-old hubby is a designer and founder of the Oakley Inc., -perhaps mostly known for its sunglasses, Oakley is also an apparel joint. Jim is also known for creating Red Digital Cinema Camera company.
James Jannard founded sunglasses empire Oakley out of his car in 1975. It went public in 1995 and sold to Luxottica for $2.1 billion in 2007.
In mid 2000's he began working on his next project, Red Digital, building high-resolution cameras that have shot movies like Avatar and The Hobbit. According to his profile on Forbes, he is worth about $3 billion.
In 2013, Jannard announced that he no longer would be the public face of Red Digital.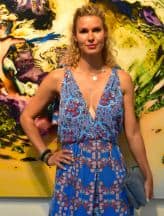 Misha dedicates her time to advocating for the ocean as well as the wildlife. Misha is passionate about the wildlife, she and her husband often make contributions in working towards saving our planet.
Her social media platforms also feature links to organizations like Seal Legacy –which aims to stop Iceland whaling. James and Misha Jannard are also heavily linked to Fiji, the couple owns the islands of Kaibu and Vatu Vara. Misha serves on the Vatuvara foundation.
In addition, Misha Jannard is also a council member of the African Wildfire Foundation and sits on the board of trustees. The stunning blonde is super private and keeps to herself only appearing on social events.
Misha and her husband are longtime residents of Malibu, California. It was their home in California where Jannard's people found an unidentified man who had invited himself inside their mansion. According to TMZ, the guy was found naked as he awaited for Paris Jackson.
Find Misha Jannard on Instagram here.