Jordan Belfort, aka the Wolf of Wall Street, made millions in the 1990s through his investment company, Stratton Oakmont. The talented young salesman began selling stocks in 1987 and made millions illegally, defrauding its investors.
As we know, Belfort and his operation were later busted and he paid the price for his shady businesses. In 1999, Belfort pleaded guilty to securities fraud and money laundering. He was sentenced in 2003 to four years in prison, but only served 22 months. His life of fraud, drug abuse and multiple affairs was taken to the big screen in the 2013 movie The Wolf of Wall Street, starring Leonardo DiCaprio.
Now a days, the former stockbroker turned author, used  his experiences as the Wolf of Wall Street and is now also, a motivational speaker. As for his personal life, Belfort was married twice and is the father of two children.
Wives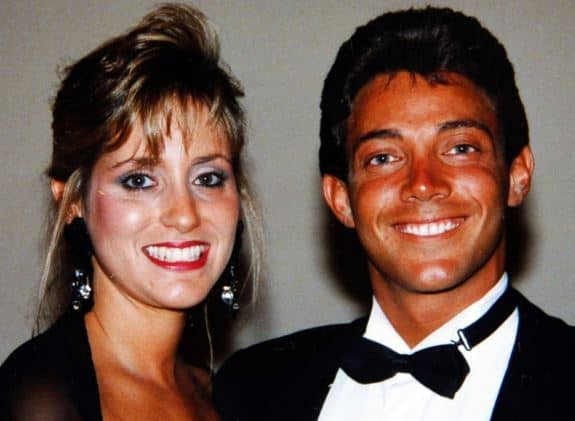 Denise Lombardo became his first wife back in 1985. The couple tied the knot back when he was still trying to make it in the stock market business. Denise Lombardo and Belfort remained married until their divorce in 1991. He had already started an affair with Nadine Caridi, who would become his second wife.
Nadine Caridi Belfort or Nadine Belfort who was also known as the Duchess of Bay Ridge, was a famous model at the time she and Jordan met. Nadine Caridi was in her  twenties when she was introduce to Jordan Belfort by her then boyfriend  Alan Wilzig (pic below with Nadine)a former professional race car driver and former president of the Trust Company of New Jersey.
Nadine and Belfort started an affair while he was still married to Denise, after the divorce was finalized Jordan and Nadine got married to Nadine in 1991 in the Caribbean. They had two children together daughter Chandler and son Carter.
Jordan named his famous yacht The Nadine originally built for Coco Chanel, which now lays in the bottom of the sea in the east coast of Sardinia, like Belfort's yacht, his marriage to his sexy wife Nadine Belfort sunk thanks to his infidelities, substance abused  and fraudulent self. The couple divorced in 2005.
Nadine Ann Caridi, was born in London and was raised in Bay Ridge, NY. She graduated from John Dewey High School and became a renowned model for Miller Lite in the 1990's. She is a Pacifica Graduate Institute with a masters in Clinical Psychology, and a Phd in 2015. Now in her 50's she is now known as as Nadine Macaluso. She got remarried to Wizard World, Inc's CEO John Macaluso, 57. She and her family which includes children, Frankie, Nikki and Allie Macaluso; reside in Manhattan Beach.
Find Nadine on Twitter here and check her website here.
Children
Jordan Belfort is the father of two children, daughter Chandler Belfort and son, Carter Belfort with second wife, Nadine Caridi (both pictured below). Daughter Chandler, who lives in Allentown, Penn.; is a Research Assistant at the Social Cognition and Imagination Lab, according to her LinkedIn.
Carter Chandler is a 2014 graduate from Vistamar School. He currently resides in Los Angeles, California. You can find him on Facebook here.
Girlfriends
Jordan has had many relationships, but ever since claiming to have cleaned up his act, he has been in a relationship with, Anne Koppe. The couple met in 2008 and are said to be engaged. Anne is the daughter of Helen and Bruce Koppe. The blonde studied at the University of San Diego and currently leaves in Manhattan Beach, California.
You can find Anne Koppe on Facebook here.