Lorna Hawthorne
Meet Lorna Hawthorne; wife of Howell Hawthorne, the Jamaican founder and CEO of Golden Krust Caribbean Bakery & Grill, who committed suicide inside his factory on Saturday, December 2, 2017. He was 57.
Mr. Hawthorne's lifeless body was found inside his office at the company on 3958 Park Avenue; investigators also retrieved a handgun and a note, but its contents were not revealed.
He was born on May 1, 1960, in Andrew, Jamaica; he moved to the US in 1981. Lowell held a Bachelor of business administration from the City University of New York-Herbert H. Lehman College; prior to that, he studied at Bronx Community College.
He served as President and CEO of Golden Krust since August 1989, until his tragic death.
Lorna
Mr. Hawthorne's wife is the former Lorna P. Roach; Lorna was born on October 10, 1962, in  Freetown/ Maidstone, an area of Manchester, Jamaica.
Lorna and her sister Paulette grew up in a family where everything revolved around their school, church, and family. She was never allowed to attend local dances.
Like Lowell, Lorna and her sister eventually moved to New York around the same time he did; however, it was 1983 that they met at a dance. They were properly introduced by Paulette's boyfriend.
Lorna and Lowell became friends in the months that followed and things quickly moved from that point. They started dating while Lorna worked for the Moravian church and Lowell who was with the NYPD.

She found out she was pregnant with their firstborn  Omar a few months after they started dating and were not yet married. Omar was born on November 27, 1984.

They eventually tied the knot on July 13, 1985, in the Bronx, NY. Two more sons were born; Haywood and Daren as well as a daughter named Monique.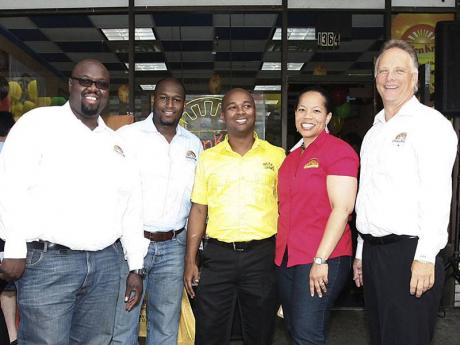 All three of Lorna Hawthorne's children work at the family business where she serves as director of human resources; Omar is the director of franchise development and community affairs;  Haywood is the vice president of information technology and manufacturing, Daren is the corporate counsel and executive vice president of franchising.; and Monique, takes care of  the Mavis & Ephraim Hawthorne Golden Krust Foundation