Geoff Tracy
Geoff Tracy is the restaurateur husband of journalist Norah O'Donnell –whom you know as the co-host of "CBS This Morning."
Geoff's wife was born Norah Morahan O'Donnell on January 23, 1974; the daughter of a doctor father and scientist mother, she attended Georgetown University and received a Bachelor of Arts in Philosophy as well as a Master of Arts in Liberal Studies.
Norah began her career as a print reporter for Roll Call, since then she has covered six presidential campaigns and reported from every political convention. She has covered a number of breaking news stories throughout her career. Prior to joining CBS News, O'Donnell worked for more than a decade at NBC News.
The award winning journalist joined CBS This Morning in 2012 and she's also a contributor to "60 Minutes." O'Donnell is currently married to Geoff Tracy, meet him below.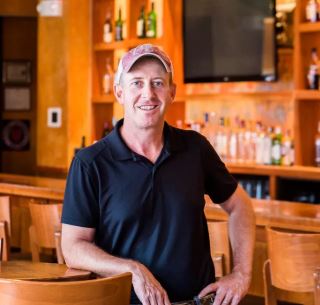 #1 Geoff Tracy is a trained chef
Geoff graduated first in his class at the Culinary Institute of America in Hyde Park, NY. He also holds a degree in theology which he obtained in 1995 from Georgetown University.
#2 He opened two restaurants before he turned 30 and is now the owner of six of them
According to his official bio, Geoff opened Chef Geoff's in 2000 and Chef Geoff's Downtown in 2002.  Both were opened before he reached the age of 30. In 2006 Geoff opened his third restaurant, LIA'S in MD.  In late 2008 Geoff opened Hank's Tavern & Eats in Hyattsville, MD.  Geoff's fifth restaurant, Chef Geoff's Tysons Corner opened in 2009 in Vienna, VA.  The sixth restaurant, Chef Geoff's Rockville, opened in 2012.
#3 He does a fair amount of charity
Geoff contributes to more than 150 charities and organization every year in the form of silent auctions, fundraising appearances, and even the Chef Geoff sponsored Little League team.  In 2006 the National Restaurant Association awarded Chef Geoff's The Best Neighbor Award for its contributions to the Washington DC community.
#4 He is a best-selling author and award winning chef
Geoff is also the co-author of the New York Times Best Seller, Baby Love.  Baby Love teaches busy parents how to feed "Healthy, Easy, Delicious Meals for Your Baby and Toddler". In 2009 Geoff was awarded the Albert Uster "Chef of the Year Award". In 2011 Chef Geoff's Tysons won the RAMMY award for "Hottest Restaurant Bar Scene". In 2012, the readers of Washingtonian Magazine selected Geoff as "Best Local Chef".
#5 He has been happily married since 2001
Geoff Tracy and newsy wife, Norah O'Donnell have been married since June 2001. The couple have since welcomed three children together: Grace, Henry, and Riley.