Mossimo Giannulli
Mossimo Giannulli is the fashion designer husband of TV and Film actress, Lori Loughlin –from Full and Fuller House fame.
Mossimo and Lori have been together for decades and are currently involved in a college admission scandal. Turns out, his actress wife has been charged of participating in a massive bribe to get their daughter into college.
According to an investigation, dozens of wealthy parents paid a college prep organization to help admit students into elite colleges like Yale, Stanford, Georgetown, among others.
54-year-old Lori rose to fame for playing Rebecca Donaldson on the ABC sitcom Full House and its Netflix revival Fuller House. She also played Ava Gregory on Summerland. The New York native began her career as a model at age 12, and was featured on many national print advertisements while attending Hauppauge High School in New York. She went onto appear in other famous TV shows like Beverly Hills 90210 and Seinfeld.
Check out five interesting facts about her husband.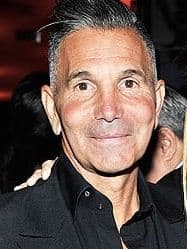 #1 He is a famous fashion designer
Mr. Giannulli was born Massimo Giannulli June 4, 1963; to parents Gene and Nancy Giannulli. The California native is the creator of the popular Mossimo clothing line. The brand has specialized in youth clothing, specifically in items such as shirts, jeans, jackets, socks, underwear, and accessories.
#2 He and Lori were in previous relationships
Lori's first tied the knot in 1989 to Michael R. Burns –an investment banker who later became the vice president of Lionsgate. However, they divorced in 1996. The following year she and Mossimo became husband and wife, two years after they first met in 1995.
Massimo was previously married to Chris Clausen, but they also ended in divorce.
#3 He is a father of three
Since their nuptials the two welcomed two daughters together. Isabella Rose was born on September 16, 1998 and Olivia Jade on September 28, 1999. Their daughter Olivia is a YouTube star who gives beauty tips on her channel.
Mossimo is also the father of a son, Gianni Gene Giannulli –born from his first marriage.
#4 He faked his way through college
According to his youngest daughter, Olivia Jade Giannulli her father didn't go to college. She revealed during an interview "He has a really crazy story in college," "He, like, built his whole entire brand and he wasn't actually, like, ever … enrolled in college." "But he, like, faked his way through it and then he started his whole business with tuition money that his parents thought [was] going to college."
His original biography states that Mossimo studied architecture (like his father) and business at the University of Southern California, but he dropped out after three years.
#5 He almost went bankrupt
In the late 90's the stoke of Mossimo Inc, dropped from $50 to $3, Mossimo was ready to face bankruptcy, but then Target came to his rescue. Mossimo's clothing line is sold in 600 stores internationally (Australia, Mexico, UK, Philippines, India, Japan and South America) and in 1,700 stores within the United States.