Scarlett Talamantes
Scarlett Talamantes is the loving wife of former President and Chief Executive Officer of McClatchy -Patrick Talamantes.
Scarlett's husband became President and Chief Executive Officer of McClatchy in May 2012. He served as the company's chief financial officer for 11 years before being named CEO. Talamantes was replaced by Craig Forman as CEO in 2017.
Talamantes is a native Californian who grew up in Sebastopol. He is a Stanford grad with an MBA from University of Pennsylvania's Wharton School of Business.
Talamantes was introduced to the multimedia business in New York, handling media company financing for Chemical Bank. He later spent nine years as chief financial officer at Sinclair Broadcast Group Inc. in Maryland, which owned more than 60 TV stations nationwide. He and his family returned to Northern California after joining McClatchy.
Check out five facts about his wife.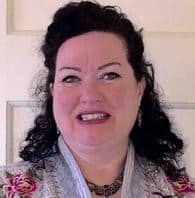 #1 Her father worked for American Airlines
Scarlett Talamantes was born Scarlett Lee Bell to parents Patricia L. Robinson of Alexandria, Va., and P. Jackson Bell of Fort Worth. Her father served as a senior vice president of American Airlines in Fort Worth. She is the stepdaughter of Virginia Bell of Fort Worth.
#2 Patirck and Scarlett Talamantes have been married since 1992
According to a NY Times wedding announcement, the couple tied the knot on July 25, 1992. The Rev. Stanley Krempa officiated at St. Mary's Roman Catholic Church in Alexandria. At the time Scarlett was 27-years-old.
#3 She attended University of Virginia
Scarlett Talamantes graduated from the University of Virginia with a Bachelor's Degree -Government and Foreign Affairs. She also received an M.B.A. in Consumer Marketing, Business Ethics in 1992.
#4 She is an instructor for Pre-k to 12th Grade
According to her LinkedIn, Scarlett Talamantes works at the Middle School and High School level, teaching Leadership, Life Skills, Etiquette and Style, Pre-K to 5 art projects with a message.
#5 She is a proud mom
During their marriage the couple has welcomed two children together, sons; 24-year-old Patrick, and 21-year-old Austin.