David Morley
David Morley is the proud husband of Brit businesswoman, Paula Nickolds –better known as the managing director of the iconic John Lewis store.
David's wife became the first woman boss at John Lewis and has served in her current role since 2017.
Paula who grew up in North West London, earned a bachelor's degree in history from the University of Southampton. She joined John Lewis' graduate scheme in 1994; and has since enjoyed a career studded with success. She started out on the shop floor at John Lewis in the haberdashery department of the Oxford Street store, and has steadily risen through the ranks. She has been its Member of Management Board since 2013.
She is happily married to David Morley, meet him below.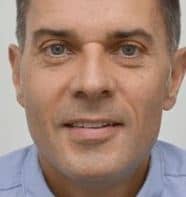 #1 He also has a link to John Lewis
David Morley served as General Manager for John Lewis first for two years from 2003 until 2005 in Welwyn Garden City; and later for eight years in the same role at Peter Jones, London.
#2 He is grew up in Nottingham
According to his LinkedIn, Morley grew in the area where he attended Nottingham High School.
#3 He met his famous wife at the stores shop floor
David met Paula at John Lewis, on the shop floor. The couple became husband and wife in 2003.
#4 He is currently working at Clifton Nurseries
David Morley has 30 years' experience with the John Lewis Partnership followed by 18 months as RHS director of gardens, shows and retail. He is currently listed as Retail Director at Clifton Nurseries.
#5 The couple does not have any children
The couple is currently based in London and despite being married for 15-years they do not have any children together. Paula told the Daily Mail on the couple not having children "'It's never been on the list of things I desperately wanted to do."