Lisa Falcone
Lisa Falcone is the longtime wife of Hedge-fund billionaire, Philip Falcone -known as the founder of Harbinger Capital and LightSquared.
Lisa's hubby is a hedge funder and former Harvard hockey star who made $1.7 billion for himself and billions more for investors in his Harbinger Capital by shorting subprime in 2007. Born Philip Alan Falcone, the Minnesota native, received his undergraduate degree from Harvard University.
According to Bloomberg, Harbinger Capital Partners LLC operates as a hedge fund management firm. The Company offers investment advisory services to pooled investment vehicles.
Philip has been happily married to stunning wife Lisa Maria Falcone -since 1997. Meet her below.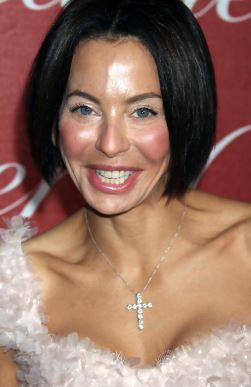 #1 Lisa grew up believing her aunt was her mother
Lisa Falcone was born Lisa Velasquez, she grew up in Spanish Harlem. According to Vanity Fair, she revealed her father was, a busboy who wasn't around much. She has described her mother to others as a "rageaholic" and an "alcoholic"; she found out only later that her "mother" was actually an aunt. The article goes on to say Lisa Falcone never met her birth mother.
#2 She started a film production company
Lisa Marie Velasquez now Lisa Falcone, she studied art history at Pace University, earning an associate's degree. She is behind Everest Entertainment -a film production company created in 2008. Since then, Lisa has produced a number of cinematic projects including; Mother and Child, 127 Hours, and Win Win. 127 Hours was nominated for six Oscars.
#3 She is into philanthropy
Lisa Falcone is active in philanthropic causes, including the American Museum of Natural History and sits on the board of the New York City Ballet.
#4 Lisa is a mother
Lisa and husband, Phillip met in 1992, at a group dinner at a Park Avenue restaurant with Wall Street guys. At the time she was in her early 20s and worked as a fashion model.
They were married in 1997. Together they are the proud parents of two children. She geve birth to twin daughters Liliana and Carolina -in February of 2005.
#5 She is friends with Alicia Keys
Lisa and artist Alicia Keys go way back and in addition to the singer, she's also close to the likes of Madonna, Ed Norton, magician David Blaine and other Hollywood types who attend the Falcones' high-profile Christmas parties.