Rosemarie Kaeser
Rosemarie Kaeser is the longtime wife of Joe Kaeser -the CEO of German industrial giant, Siemens.
Rosemarie's husband said on social media that president Trump has become the 'face of racism and exclusion' -this following Trump's North Carolina rally where he continued to attack progressive congresswomen after telling them to "go back" to where they came from.
Joe Kaeser was born on June 23, 1957 in Arnbruck, in the Bavarian Forest, in Germany. While his early education was done in Germany itself, he studied Business Administration at the Regensburg University of Applied Sciences. He also did a Diploma course at Betriebswirt. After his education, he joined Siemens AG in 1980 and continued his services to the company till date.
Following various positions in business management and management positions at Siemens AG in the areas of administration, finance and strategy, Joe Kaeser was appointed to the Managing Board of Siemens AG as Chief Financial Officer in 2006.
Since August 2013, Joe Kaeser is President and Chief Executive Officer of Siemens AG.
In addition, he serves as a Member of Management Board at Siemens Metering, Communications and Services, The Siemens Automation and Drives Group and Siemens Oil & Gas Consulting and Siemens Metering Services Ltd. He also serves as the Chief Executive Officer of Siemens at Atos IT Solutions And Services Limited.
He is happily married to wife Rosemarie Kaeser. Meet her below.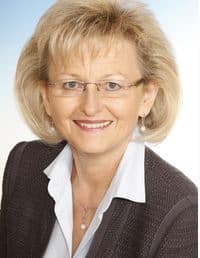 #1 She was also born in Germany
Rosemarie Kaiser was born March 10, 1957 in Gutendorf, Germany
#2 She stays busy
Rosemarie Kaiser is the spokeswoman for the CSU in the Lower Bavarian hometown Arnbruck. She was chosen the Group spokeswoman of the municipal council in 2014.
#3 She donated over 20,000 euros to the swimming department of the sports club and the Panorama Sports Association
In 2018, Rosemarie Kaeser presented the swimming department of the sports club and the Panorama Sports Association with a donation of over 20,000 euros.
She said that her family has for many years appreciated the outstanding youth work done by the Arnbrucker Sportverein and that excites young people in the swimming section far beyond the boundaries of the community.
#4 She is a mom
Joe and Rosemarie Kaiser are the parents of two adult children, daughters Nathalie and Kathrin.
#5 The family lives in the village of Arnbruck
The family still lives next to their parents' house, in a spacious Bavarian-style property, a stone with the inscription "Doa bin I dahoam" in front of the door, a conservatory with a wide view at the back.