Joan Celia Lee
Joan Celia Lee is the proud daughter of comic book legend, Stan Lee –best known for being the co-creator of Marvel.
Joan's iconic father who is known as the man behind some of the world's favorite heroes: Spider-Man, Iron Man, and the Fantastic Four –died in Los Angeles at the age of 95.
Born Stanley Martin Lieber on December 28, 1922; the Manhattan, NY native had his name legally changed to Stan Lee. Lee's legacy is defined by his numerous popular comic book character creations for Marvel Comics, where he began working in 1939 at age 18 when the company was called Timely Comics. The company changed its name to Marvel Comics in 1961 when Lee and artist Jack Kirby co-created the Fantastic Four and saw it go on to become a hit.
His characters eventually went on to star in lucrative movies, TV shows, and video games, and were the basis for action figures, statues, and all manner of merchandise. They are the foundation of Marvel Entertainment.
He is survived by his daughter Joan Celia "J. C." Lee. Meet her below.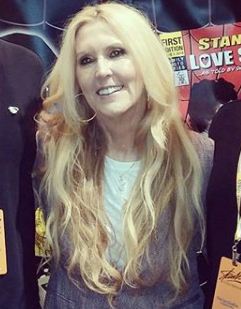 #1 Her parents were married for nearly seven decades
Joan Celia Lee's parents, Stan and Joan Lee were married from December 5th, 1947 until her mother's death in 2017 –months before their 70th year anniversary.
#2 She was accused of elderly abuse
Joan Celia Lee was accused in the past of inflicting both physical and psychological abuse upon her father, as well as her mother, Joan Lee, prior to Joan's death in July of last year. In an interview to the NY Times, Stan denied the allegations.
#3 Joan Celia had a sister
Joan Celia was the couple's first born in 1950. Her parents welcomed a second daughter, Jan three years later in 1953. Sadly the baby died three days later.
#4 Joan Celia Lee is in showbiz
J.C. learned how to do comic book layouts at paste-ups at a young age, and continued to work close with her father and Marvel Studios into adulthood. However, having her famous' father's name, Joan Celia who goes by JC, also had a bit of an acting and modeling career. You may recalled some of her work; The Ambulance (1990) and The Cool World (1963).
#5 She isn't married
She does not have children and is not married.
Don't forget to check the Photo Gallery & Video

Below
trending stories
Trending on WAGCENTER.COM