Rachel Sharp
Rachel Sharp was once the wife of late actor, Luke Perry –who became a beloved TV icon following his role on Dylan McKay on Beverly Hills 90210. At the time of his death, Luke was dating family therapist and former actress Wendy Madison Bauer.
Rachel's husband died at age 52 after he was rushed to the hospital last week following a massive stroke. Perry, widely known as a teen heartthrob found new fame back in 2017 when he was cast to play Fred Andrews on CW's series, Riverdale.
He is survived by two adult children, his mother, Ann Bennett; both siblings; a fiancée and former spouse, Rachel Sharp. Check out five interesting facts about her below.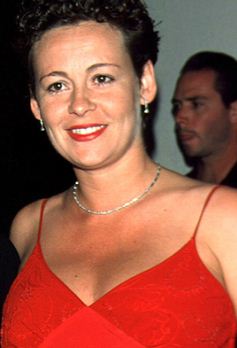 #1 They were married for a decade
The couple went their separate ways in 2003 after 10-years of marriage. The married at the Four Seasons Hotel in Beverly Hills in 1993 during a private ceremony which was attended by some of the show's cast.
#2 She allegedly sent him lingerie
Tabloids reported that Sharp actually was a huge fan from watching him on 90210 and mailed him a piece of lingerie, which caught Perry's attention. However, it was the actor himself who said the two had met at a restaurant.
#3 She is a mother
Rachel Sharp is the proud mom of two children 21-year-old son, Jack and 18-year-old daughter, Sophie –from her marriage to Perry.
#4 She did some acting
Rachel 'Minnie' Sharp is a former actress, according to her IMDb, She played a character named Emily in the 1987 fantasy film Teen Wolf Too starring Jason Bateman. She is also described as a furniture saleswoman.
#5 Her son is a wrestler
The couple's son Jack, followed his father's footsteps as an entertainer. However, Jack is in a different industry as a professional wrestler. Jack goes by Jungle Boy.
Don't forget to check the Photo Gallery & Video

Below
trending stories
Trending on WAGCENTER.COM