Sara Kapfer
Sara Kapfer is the lovely wife of Academy Award-winning actor and comedian, Cuba Gooding Jr.
Sara and her longtime husband were married for decades prior to their separation a few years ago. She's been there for the actor since day one and saw him become one of Hollywood's most beloved actors.
However, 51-year-old Cuba Gooding is currently being investigated for allegedly groping a woman during an apparition at Magic Hour Rooftop Bar & Lounge in Manhattan. The actor denies any wrongdoing but has surrendered to cops.
Born Cuba Michael Gooding Jr. -on January 2, 1968; the NY native, won the Academy Award for Best Supporting Actor for his role in Jerry Maguire in 1996.
Other credits include As Good as It Gets, What Dreams May Come, Men of Honor, Pearl Harbor and American Gangster. Between the years 2016-2018, Gooding starred in American Crime Story as OJ Simpson. Most recently, Cuba starred as Billy Flynn in Chicago in London's West End.
But enough about him, check out five interesting facts about his longtime wife, Sara Kapfer.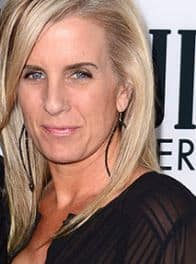 #1 She was his high school sweetheart
Gooding Jr. married his high school sweetheart, Sara Kapfer, in 1994. They met in 1986, while they attended High School together, they moved in together after high school and remained that way for seven years. The couple tied the knot March 13, 1994.
#2 She is a mom of three
Sara gave birth to their first child together, son Spencer in 1994, then in 1996 she welcomed their second son Mason Gooding and in 2005 to they were blessed with the birth of their daughter Piper Gooding.
#3 She isn't in showbiz
Unlike her husband, Sara Kapfer had one of the most normal jobs ever. Sara Kapfer Gooding an elementary school teacher.
#4 She filed for legal separation
In 2014, Sara decided to file for divorce because following her husband's multiple indiscretions. Sources reported at the time Cuba has cheated on Sara with at least two different women, including an affair with actress Jeanette Carr.
#5 They may not be divorced after all
Gooding hasn't commented publicly on the divorce, but he talked about his relationship during a 2016 interview on The Steve Harvey Show.
He said: "Listen, you know how things happen. Things happen, you grow up … I took my wife on a date the other day. Took her to see a movie the other day. Yeah. We got kids, man. We got to keep this together, strong, you know? That's how I see it."
Don't forget to check the Photo Gallery & Video

Below
trending stories
Trending on WAGCENTER.COM