Virgil Abloh
Shannon Abloh is the amazing and loving wife of Virgil Abloh, the talented fashion designer and entrepreneur who served as artistic director for Louis Vuitton from 2018 until his death in November 2021.
In addition to fashion, Virgil Abloh made art working with Japanese artist Takashi Murakami and music collaborations designing covers for artists such as Kanye West, Jay-Z, Pop Smoke. In regards to music, you could say he got his inspirations from his years DJing as a teenager.
Early in January 2018, Abloh released his first single Orvnge" with the collaboration of German DJ/producer Boys Noize. He designed Pioneer's transparent CDJ-2000NXS2 and DJM-900NXS2 models in May 2019, which were subsequently part of the Figures of Speech Exhibition at the Museum of Contemporary Art in Chicago in June 2019.
Abloh Family
41-year-old Virgil Abloh was born in Rockford, Illinois on September 30, 1980, the son of Ghanaian immigrants, his father Nee worked for several years in a paint company, while his momma Eunice Ablohh was a modiste. Virgil had a sister Edwina Abloh.
Virgil graduated in 1998 from Boylan Catholic High School in Rockford; he subsequently received his bachelor of science in civil engineering from the University of Wisconsin in 2002, and a master of architecture from the Illinois Institute of Technology in 2006.
Early Fashion career
He started his career in fashion as an intern for Fendi in 2009, along with rapper Kanye West (who he had already met at a print shop in Chicago in 2002) they worked in Fendi's office in Rome. That same year Abloh and Don C (West's artistic partner) launched the Chicago-based retail store RSVP Gallery.
In 2010, Abloh was appointed creative director for Kanye West's creative agency called Donda. In 2011, was the artistic director for Watch the Throne, West and Jay-Z's music album; he launched Pyrex Vision his first company in 2012, but he shut it down a year later.
OFF-White & Louis Vuitton
Off-White his high-end streetwear brand hit the market in 2013.
"all the skateboarding brands that I was into had graphic T-shirts. In the '90s, there were different styles that went along with the different influences in skateboarding, whether that be hip-hop or rock and roll and grunge. And that's what I was into, so I was following all that.'

"Streetwear in my mind is linked to Duchamp," he told me. "It's this idea of the readymade. I'm talking Lower East Side, New York. It's like hip-hop. It's sampling. I take James Brown, I chop it up, I make a new song. I'm taking ikea and I'm presenting it in my own way. It's streetwear 10.0—the logic that you can reference an object or reference a brand or reference something. It's Warhol—Marilyn Monroe or Campbell's soup cans."
Abloh worked with Nike's collection called The Ten, he also partnered with artist Jenny Holzer in the creation of a line created to bring the positive side of globalization, immigration, and cultural integration.
In 2018, Virgil designed Markerad the furniture collection for houses and apartments for Ikea, released the following year; Abloh and Ikea continued to work together in the year that followed.
Furthermore, Virgil Abloh was appointed artistic for Louis Vuitton on March 25, 2018, he was in charge of the brand's menswear ready-to-wear line. His first collection showed at  the Palais-Royal gardens in Paris at the 2018 Men's Fashion Week on June 19, 2018.
"It is an honor for me to accept this position. I find the heritage and creative integrity of the house are key inspirations and will look to reference them both while drawing parallels to modern times"
View this post on Instagram
Virgil Abloh was diagnosed with cardiac angiosarcoma in 2019; he died at the age of 41 on November 28, 2021, in Chicago.
Shannon Abloh 5 Facts you Need to Know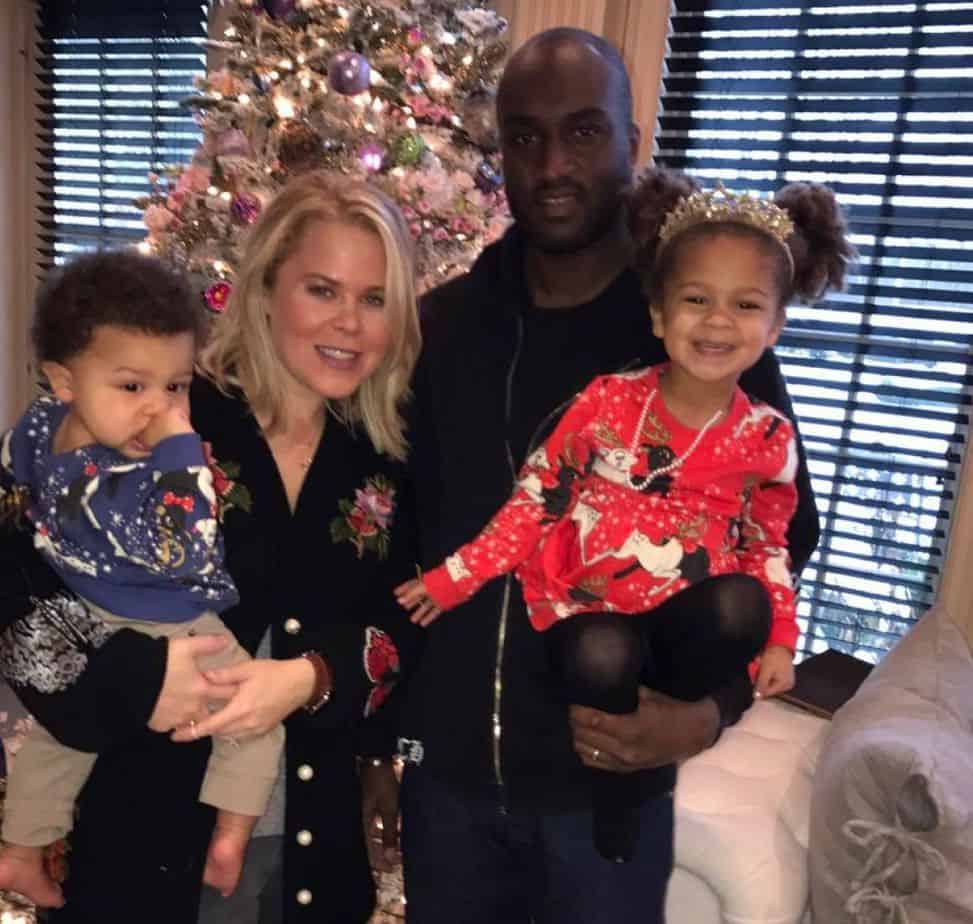 40-year-old Shannon Abloh was born Shannon Sundberg on August 2, 1981, in Chicago, Illinois. She is the daughter of Shelley and Joseph Sundberg.
Shannon Abloh has one brother, Cody Sundberg, 46, senior vice-president at Foundry Commercial in Charlotte, NC. Cody graduated from Miami University, before joining Foundry, he worked for Urban Living, JLL, COLON Commercial, Transwestern, The Zeller Realty Group, Bradford Allen Realty Services, Ross Property Advisors to name a few.
Shannon Abloh graduated from Edgewood College with a degree in management. and marketing Mrs. Abloh was the programme manager at Monster; before that worked as a media sales planner for Yahoo and an assistant director of sales for Continental Television Sales.
Shannon and Virgil were childhood sweethearts who met each other at senior school; they dated for ten years before getting married in 2009, at the Four Seasons Hotel in Chicago.
Don't forget to check the Photo Gallery & Video

Below
trending stories
They had two beautiful and amazing children together, Lowe and Grey Abloh.
Trending on WAGCENTER.COM