Joshua James Richards
Joshua James Richards is the boyfriend of Chinese filmmaker, Chloe Zhao -who is behind hit films like, The Rider and Nomadland.
Joshua James Richards's girlfriend became the first Asian woman and the second woman ever to win a Golden Globe for best director, for her film Nomadland.
However, while the 38-year-old has been receiving much apraise in the U.S.; she's not being as loved, back home.
Recent reports say Zhao's Chinese identity is being questioned by users, pointing out she made said some negative remarks about the country a few years ago. As a result of the backlash, publicity about her film has been removed from social media, and at least two hashtags related to it have been disabled.
Zhao who was born in Beijing, but was educated in Britain and the U.S.; apparently insulted the country in past interviews.
The filmmaker currently resides in California with her partner; Joshua James Richards -who is also in the industry.
1. He is an English cinematographer, director and writer
Joshua James Richards is a native of England's county of Cornwall.
According to a former profile page on United Agents website, Joshua James Richards cinematography credits include Cannes Directors' Fortnight Winner The Rider and Songs My Brothers Taught Me for
which he also won Best Debut Cinematography at the Camerimage Festival.
In addition, he was nominated for a Critics Circle Award for best technical achievement for his second feature, BAFTA nominated God's Own Country.
2. He is well educated
Joshua James Richards received his BA at Bournemouth University Film and Television School for Film and creative writing. He also holds a MFA at NYU's Tisch School of the Arts where he studied Directing.
3. He has an impressive resume
He began his career doing a wide range of commercials and music videos; and has since collaborated with directors around the world. His work has screened at festivals worldwide including Cannes, Sundance, Toronto,
Telluride, Berlin, New Directors New Films, Telluride, and exhibitions at the Whitney Museum of American Art and MOMA PS1 in NYC.
4. He has chickens as pets
Joshua James Richards and Chloe Zhao share a home in Southern California -where they live with their mutts, Taco and Rooster; and three chickens, Red, Cebe, and Lucille.
5. He met Zhao at NYU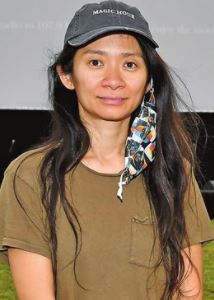 Joshua James Richards met his now famous girlfriend back in 2012, while they both were film studetns at NYU. According to Vanity Fair, when the two first met, Zhao sat him down and made him tell her everything about growing up in a little fishing town in Cornwall, England.
He recounts, "She has a way of making your story feel important and special."
The two have worked together in Zhao's Songs My Brother Taught Me, The Rider and most recently, Nomadland.