Jane O'Meara Sanders
Jane O'Meara Sanders is the long-time wife of Vermont Senator, Bernie Sanders –her husband is the longest-serving independent politician in Congress.
Married for several year, Sanders and his wife, Jane O'Meara are one of the most talked about political couples. Get to know her better in her top facts below.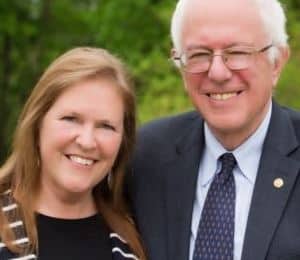 #1 She is a New York native
She was born Mary Jane O'Meara on January 3, 1950; she grew up in Brooklyn, New York.
#2 She earned a Ph.D.
Jane earned her Ph.D. in Leadership and Policy Studies from Union Institute & University. She also participated in the Institute for Educational Management and Presidents Seminar, two Harvard University educational leadership programs.
#3 She is Bernie's second wife
Her husband was first married to Deborah Shiling, whom he met in college. The two were married from 1964 until their divorce in 1966. They had no children.
#4 She is a stepmother
Jane O'Meara Sanders is the stepmother of Levi Sanders –born in 1969 from Bernie's relationship to girlfriend, Susan Campbell Mott.
#5 She and Bernie had an interesting honeymoon
The day after their 1988 wedding, the couple visited the Soviet Union as part of an official delegation in his capacity as mayor. The couple married in a civil ceremony in 1988 after being together for seven years.
#6 Like Bernie, Jane O'Meara was previously married
Jane was married to first husband, David Driscoll with whom she became the mother of three children, Heather, Carina, and Dave.
#7 Jane O'Meara Sanders is the Founder of the Sanders Institute
Last year, the wife and mother founded the Sanders Institute –a progressive think tank in which she serves as a Fellow pursuing bold, progressive solutions to economic, environmental, racial and social justice issues.
#8 Jane worked in her husband's Congressional office
Jane O'Meara Sanders served as Chief of Staff and Policy and Press Advisor as a volunteer and has held both appointed and elected office.
#9 She is the former president of Burlington College
She served as Interim President/Provost of her alma-mater, Goddard College, and as President of Burlington College. According to her website, she currently serves on the Board of Directors of the Vermont Economic Development Authority.
#10 She was the subject of FBI probe
In 2017, Jane was reported to be under federal investigation for allegedly making fraudulent claims and promises while trying to secure financing for the now-defunct college she led. She was accused of committing bank fraud in order to get a new campus for the college.
You can find Jane Sanders on Twitter here.