Andrea Steele
Andrea Steele is the longtime wife of political commentator and former republican politician, Michael Steele.
Andrea's husband is also known for having served as governor of Maryland from 2003 to 2007. Steele is also the former chairman of the Republican National Committee.
The former RNC chair has been married to Andrea Steele for decades. Check out her top facts.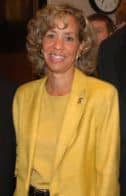 #1 They were University classmates
Andrea Derritt Steele met her future husband while attending Johns Hopkins University. The two met in the early 80's and became husband and wife in 1985.
#2 Andrea studied business
Andrea holds a business degree from Wharton. She went onto become a Riggs Bank vice president.
#3 She is a mom
Andrea and her husband are the proud parents of two adult children, sons, Michael and Drew. According to reports, Andrea Steele left her job at Riggs Bank to raise the couple's kids.
#4 Andrea keeps busy working with charities
The spouse and mother is active in St. Mary's Catholic Church in Landover Hills, and she works with Catholic charities.
#5 Andrea Steele stays out of the spotlight
59-year-old Andrea is described as very private and shy, she seldom attends political events. In fact, there's very few images of her next to her husband in public. Throughout her husband's public career – kept a very low profile.