Meet Rebecca Muilenburg, she is the lovely wife of Boeing CEO Dennis Muilenburg.
Rebecca Muilenburg who also goes by Rebecca Kickert-Muilenburg is a Licensed Veterinarian licensed to practice in Illinois. She obtained her license in back in 1990 but according to online info, she is currently inactive.
Rebecca Muilenburg's  husband was born Dennis A. Muilenburg in 1964. Muilenburg joined Boeing's engineering ranks as an intern in Seattle in 1985. He earned a bachelor's degree in aerospace engineering from Iowa State University and a master's in aeronautics and astronautics from the University of Washington.
He spent the first 15 years of his career in the Puget Sound region, supporting the commercial airplanes and defense businesses.
He held numerous program management and engineering positions of increasing responsibility early in his career, including on the company's High Speed Civil Transport, F-22, Airborne Laser and Condor reconnaissance aircraft.
Muilenburg was instrumental in building the Boeing Combat Systems and Future Combat Systems program. Much of the software in their defense portfolio today has origins in the FCS program.
As president and COO, Muilenburg shared in the day-to-day oversight and support of the company's aerospace business operations, with a focus on the company's growth and productivity initiatives, key customer relationships and leadership-development programs. He also served on the company's Executive Council.
After 30 years of service to Boeing, Muilenburg became the company's 10th chief executive in July 2015. Earlier this year, it was also announced that Muilenburg would become Boeing's chairman.
Muilenburg became chairman of the board in March 2016, chief executive officer in July 2015 and president in December 2013. Also in 2013, he lost his father, Dwaine Muilenburg. According to online obits, Dennis' dad died aged 79.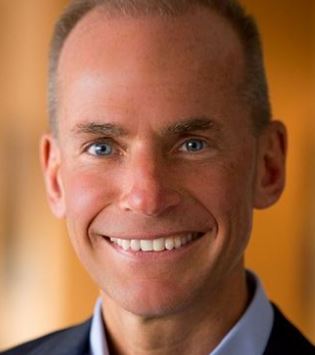 Rebecca's husband still finds time to be actively involved with his alma mater. In 2005 Muilenburg was inducted into the ISU aerospace engineering Hall of Distinguished Alumni.
Though married to one of the country's most famous executives, not much is known about Rebecca Muilenburg. While her hubby is a pro when it comes to giving speeches and talking to the cameras, Rebecca Muilenburg seems to enjoy a quiet life out of the spotlight. According to boardroominsiders, Rebecca Muilenburg and her husband are the proud parents of at least one son.
During an interview posted to YouTube, Rebecca's husband Dennis, admitted to having as much as seven pets at one point in their home.
Her husband and baby daddy recently urged the new Republican administration of President-elect Donald Trump to preserve and reopen, not abolish the U.S. government's Export-Import Bank.